The Eighteen Arhats (12)
The Arhat Who Cleans His Ears
(Wā'ěr Luóhàn 挖耳罗汉)
The Arhat Nàjiā-xīnà 那伽犀那 is always portrayed using an old-fashioned "ear rake" (ěrpá 耳筢), a kind of small brush, to clean out his ears.
Simple people say it is in order to hear the prayers of the faithful. But wise people say it is a symbol of his desire to free himself of the pollution of the senses which interferes too easily with a person's insight into the true nature of reality. Since simple people like him especially well, their case is probably more compelling.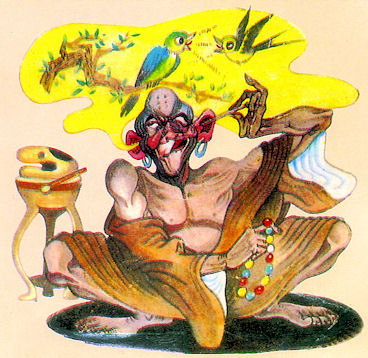 However one interprets the symbolism, he is usually called Wā'ěr luóhàn 挖耳罗汉, "The Arhat Who Cleans His Ears."
Indian Names: Nagaena or Nagasena

Nàjiā-xīnà 那伽犀那 (commonest)
also written Nàjiā-xīnà 那迦犀那

Chinese Names:

Wā'ěr Luóhàn 挖耳罗汉, the Arhat Who Cleans His Ears