The Eighteen Arhats (1)
The Arhat Who Rides a Deer
(Qílù Luóhàn 骑鹿罗汉)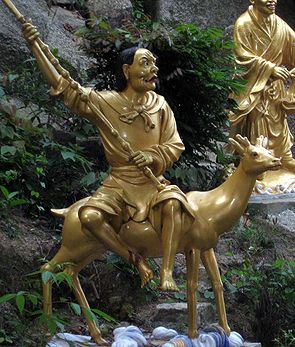 In the Indian city of Jūshè-mí 拘舍弥 there dwelt a man named Báluō-duo 跋罗堕. Báluó-duo was of noble caste and became a high official in Jūshè-mí. Báluó-duo was a very persuasive man, and it was said of him that when anything needed to be done in the city, it was Báluó-duo who could persuade all the right people to get it done.
But in a prior incarnation he had been a man of wickedness and unfiliality. For this he had suffered in purgatory for many years, eating bricks and stones. As a result, in his new incarnation he always had a skinny and careworn appearance, despite his high birth.
Báluó-duo became a follower of the Buddha, and he often remained in the woods in the company of animals, who loved him very much. There he meditated a great deal, which of course gradually gave him supernatural powers. He could fly through the air like his friends, the birds. And his voice became as loud as the roars of his friends, the lions.
At length, riding astride a deer., he returned to the palace of Jūshè-mí where he had served all those years as a high official. There he persuaded the king to abdicate his throne, and follow him to become a disciple of the Buddha.
Today he is usually represented riding this deer, and he is therefore called "The Arhat Who Rides a Deer."
Indian Names: Pindola-bharadvaja

Bīndù-luóbá-luōduo-dū 宾度罗跋啰惰阇
also written Bīndù-luōbá-luódù-dū 宾度罗跋罗度阇
also written Bīndù-luóbá-luóduo-dū 宾度罗跋罗惰阇
also shortened to Báluó-duō 跋罗堕 (commonest)
also shortened to Báluō-duò 跋啰惰

Chinese Names:

Qílù Luóhàn 骑鹿罗汉, the Arhat Who Rides a Deer
Zuolù Luóhàn 坐鹿罗汉, the Arhat Who Rides a Deer