Data Revised: 2009-08-17
File last modified:


The History of China

A Ridiculously Brief Overview
Page Outline
Linked Pages
---
Explanation
The Problem. It is almost impossible for a beginner to make much sense of Chinese historical dating because:
Chinese dynasties are named (not numbered like Egyptian dynasties), and it takes some study before one knows the order of the names, let alone the dates.
Some dynasties, like the Táng 唐 and the Míng 明, were quite long and controlled all or nearly all of the territory that is today China, but many others were brief and/or controlled only some regions, while competing states (also with dynastic names) controlled other areas.
Some minor or local dynasties took the same names as earlier illustrious ones (like Hàn 汉 or Sòng 宋).
Some names refer to clusters of different dynasties, often minor ones (like "Six Dynasties" or "Sixteen States").
Some dynasties are divided by historians into "former" and "latter" periods.
Many emperors are known by the same titles. (There are several emperors called Gāozōng 高宗 or "high ancestor," for example.)
A Lame Solution. Some English writers have sought to impose simplification by referring to periods 11 through 15c (AD 581-1277, Suí 隋 through Sòng 宋) as "Medieval," with all before this being ancient and all after this modern. Such a scheme jars most readers, for whom, say 1450, is hardly "modern." However it at least has the merit of making "medieval" line up roughly with Europe and of discouraging the idiotic practice of calling all of pre-Republican China "ancient" (as especially careless people sometimes do).
A Better (Still Lame) Solution. In an effort to simplify keeping track of time without overburdening the reader, this web site uses period numbers, often in addition to names, to designate dynasties. In a few cases of very short and regionally circumscribed "dynasties," I have lumped them under a single number and appended letters to it.
When only a gross designation is necessary, I have confined myself to a number (from 00 to 23). When greater detail is useful, I have added a letter suffix. For example, 15 or 15a is the whole of the Sòng dynasty, but 15b is the earlier Sòng, specified in Chinese as the Northern Sòng (Běisòng 北宋), and 15c is the later, Southern Sòng (Nánsòng 南宋), which controlled much less territory.
Within the dynasties I have numbered the monarchs. Thus 15c-3 is Guāngzōng 光宗, the Southern Sòng emperor who reigned from 1189 to 1194. Chinese sources often date events only to a dynasty or only to a reign, so having a convenient code avoids the inaccuracy of translating such dates into rough centuries, as we normally do in English.
Early dates differ considerably in their correlation with the western calendar, but the numeral designations help overcome that.
The page you are reading provdes a quick overview of the Chinese dynasties as I have numbered them (which, except for using numbers, is pretty much how everybody else orders them too). The web links on the period numbers take you directly to a full list of all the monarchs and their traditional dates. Additional links are provided leading to longer discussions on Wikipedia and to brief, illustrated pages, with vigorously simplified maps, from the Minneapolis Institute of Arts. (Caution: MIA uses an older system for spelling Chinese names.)
You can also print out a one-page pdf-file dynasty list. Click here.
Some readers may wish to consult Paul Frankenstein's useful Condensed China: Chinese History for Beginners, that happens to be available on the Internet.
---
1. The Pre-Imperial (Feudal) Era (Periods 1-4, ending in 222 BC)
---
2. Early Imperial Era (Periods 5-6, 221 BC - AD 220)
---
First Intermediate Era (Periods 7-10, AD 220-581)
---
Middle Imperial Era (Periods 11-12, AD 581-907)
---
Second Intermediate Era (Periods 13-14, AD 907-979)
---
Third Imperial Era (Periods 15-19, AD 960-1367)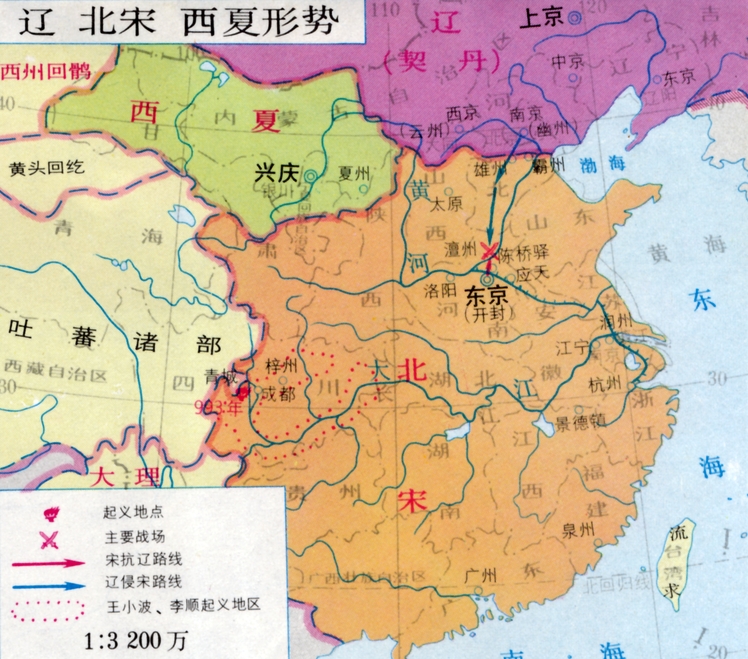 The Northern Sòng (Orange), Liáo (Purple) & Xīxià (Geen)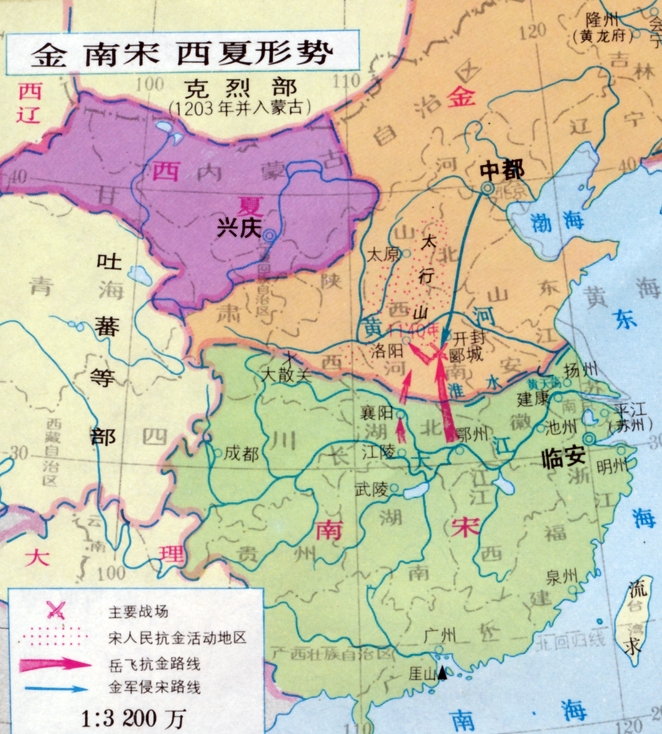 The Souther Sòng (Green), Jīn (Orange), & Xīxià (Purple)
---
Modern Era (Periods 20-21, AD 1368 to 1911)
---
Post-Imperial Era (Periods 22-23, AD 1911 to present)