Content created: 2003-05-12
File last modified:


A Brief Guide to the Most Influential
Major Chinese Philosophers
of the Eastern
Zhōu 周 Dynasty
(VIth-IIIrd Centuries BC)
Users of this page may also wish to consult a brief Guide to Chinese Sacred Books and Chinese Philosophical Terms .
---
Introduction Part I: Chinese Philosophers (Zǐ 子)
The Chinese syllable zǐ 子 (pronounced approximately "dzz," with no vowel) is used in a variety of ways: (Note for the linguistically curious)
In modern Chinese it can be a suffix added to monosyllabic nouns (sometimes to make a diminutive)
It can mean "child" or "son."
In Classical Chinese it could mean "you."
It was one of several titles of nobility (usually translated "viscount").
It can refer to a traditional scholar, and is suffixed to the names of China's most famous early philosophers. In English it is sometimes simply transliterated and sometimes translated "master."
It is in this last usage —as a suffix on names of philosophers— that it has come into English. Unfortunately, the Chinese sound is not easily represented in Roman letters as they are used in European languages, so the syllable was spelled in some pretty odd ways before it settled down in modern usage as zǐ. The commonest earlier spellings were tzǔ, tzu, tse, and tsze. (The occasional spelling tsu —corresponding to modern zu— was always a mistake.)
Introduction Part II: Eastern Zhōu 周: The Age of Slaughter

The great majority of the people to whom Chinese accord the title zǐ, "Master," lived in the bloody and chaotic end period of the Zhōu dynasty. The Zhōu 周 dynasty (period 4) was China's longest, usually dated as lasting from 1121 to 222 BC. It began as a stable feudal state, which worked well enough initially, with regional "kings" (wáng 王) honoring feudal obligations to a centralized "emperor" (dì 帝) with significant power of his own.
About the year 770 BC there came a kind of breaking point as certain of the feudal "kings" became so assertive that the capital had to be moved eastward out of their reach. Thus there is an earlier "Western Zhōu" (period 4b), the "Golden Age" after which Confucius later pined, and a later "Eastern Zhōu" (period 4c), characterized by continuing strife and increasingly brutal warfare.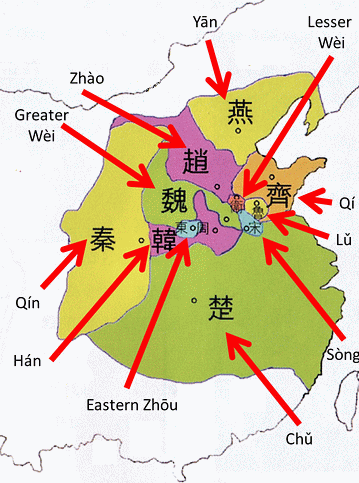 The Eastern Zhōu itself is subdivided (in the 400s) into the earlier "Spring & Autumn" or "Springs & Autumns" period (period 4d) —the title is taken from Confucius' own history of the springs and autumns of rising and falling statelets— and the final, miserable "Warring States" period (period 4e): two hundred years of mayhem and slaughter, as small polities were gradually consolidated into larger ones, ending with the final triumph of the consummately authoritarian Qín 秦 state conquering everybody else and founding of the first "imperial" dynasty, also named Qín (221-206 BC, period 5), one of the most brutal regimes known to human history.
This unhappy period of the Eastern Zhōu, with its constant contention among petty states, proved to be a fertile ground for the development of theories about how to stop the bloodshed, as well as theories about how to kill fewer friends and more enemies. Many of the most influential figures in Chinese philosophy lived at this period and were participants in these discussions. Some of them are listed on this page to help you sort out who's who.
Surnames are printed entirely in capitals at their first occurrence. Since we don't really know what any of them looked like (except that Confucius was tall and buck-toothed with an oddly shaped head), the picture repeatedly decorating the page is a generic sage who can stand in for any of them.
---
---

1. Military Strategists
---

2. Confucians
---

3. Daoists
---

4. Legalists
---
This page has received

visits since 181119.