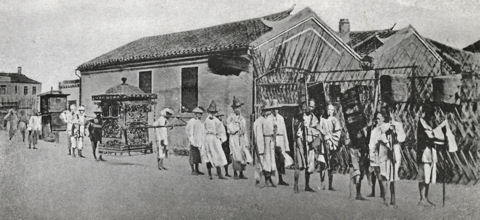 Bridal Procession, Probably About 1890
(MacGowan 1912 p. 253)
In thinking about the social structural constraints on this, it is more useful to think of the in-marrying bride being like a newly hired corporate employee than being like a modern bride. She depended upon her parents or other favorably inclined people to find her the best "job" possible, and the family "hiring" her sought to get the best "worker" available. As with all things else, the final decision lay with the hierarchically senior decision maker in each family, although as a practical matter both parents of the potential groom or bride had a voice, and not infrequently even the young people themselves dared to voice advisory opinions.
Love Matches. Love matches occasionally did occur, and Chinese theatre, folklore, and fiction are full of marriages undertaken by lovestruck people who don't consult anybody. That may be largely fantasy, but it also suggests that we should not imagine the system was entirely rigid. A separate page on this site includes some famous stories from Chinese opera (link). A couple living together merely on the basis of love were called a "dew-drop couple" (lùshuǐ fūqī 露水夫妻), i.e., a pairing destined to last no longer than the morning dew. With the heavy weight of widespread opprobrium stacked against them, common wisdom was probably right that such unions did not long endure.
Return to top
Matchmakers Although friends and relations were constantly alert for possible mates for young boys and girls, sometimes professional help was required (particularly if one had an only marginally marriageable kid on one's hands), and professional matchmakers (méirén 媒人) were (and are) a constant feature of the Chinese social scene.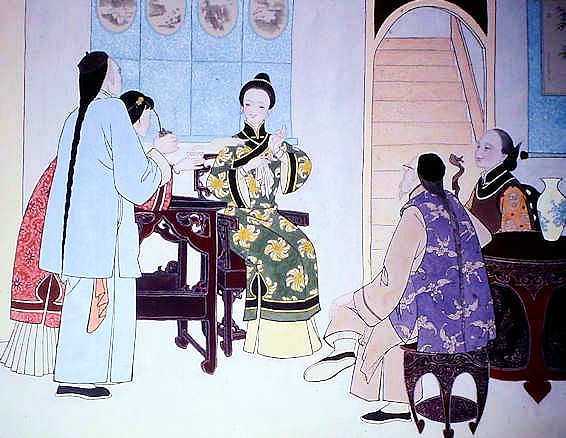 Matchmaker at Work


(Dīngcūn Folklore Museum, Shānxī Province)
The modern painting at left shows an eligible girl in about 1900 serving tea to a professional matchmaker, with two anxious parents looking on at the right. (The man standing with his back to us is more likely the girl's brother than the prospective groom.) The artist captures the self-presentation of a professional matchmaker, who wanted to be seen as accustomed to associating with high quality people, and hence likely to know many worthy potential spouses. Although often suspected of lying to clients in the interest of making a quick "sale," matchmakers were also sometimes celebrated, the most famous and most sympathetic of them being a certain Hóngniáng 红娘, whose name has become a generic term used when matchmakers refer to their profession today. (For some folk stories about matchmakers, click here. For the story of Hóngniáng, click here.)
(Professional and semi-professional matchmakers still operate today. A conference paper I wrote on modern matchmakers can be found elsewhere on this web site. Link)
Return to top
Being a Bride. Marriage was the single most critical event in most women's lives, since it removed a girl from the family and household where she had grown up (her niángjiā 娘家) —what anthropologists call her "family of orientation"— into her husband's family and household (her pójiā 婆家). The exceptions were uxorilocal marriages, mentioned above, and marriages between people forced by circumstance to found new households.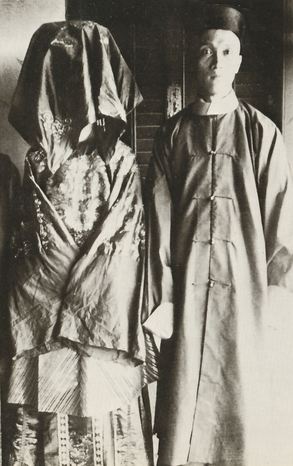 Bride & Groom (with servant), 1905±


(Goodrich & Cameron 1978 p. 41)
The bride was stereotypically expected to be deeply depressed at the prospect of her impending marriage, and to remain wooden and largely unresponsive during the marriage rites themselves. Chinese folklore recognizes the emotional strain of her position in countless proverbs and folk ditties that stress her sadness at leaving the only home and family she has ever known. Here are links to some examples of little "songs" reported from the area around modern Běijīng early in the XXth century:
At the same time that marriage was a frightening and depressing prospect, it was considered inevitable, and some folk songs offer advice to young girls looking for husbands or urge parents/mothers to get on with the arrangements. Here are some examples:
Return to top
Useless Girls. An important theme in the folk stereotype about marriage of sons and daughters was that sons were far superior to daughters; just when daughters became old enough to do productive work, people said, they would be lost to another family. However fond her parents might be of her, it was indeed the case that in a normal marriage a daughter would leave them, while a son normally would not.
Perhaps partly to assuage their own sense of loss (note), traditionally people were quite ready to complain that the cost of raising a daughter far exceeded her worth. Proverbs and songs frequently reflect such sentiments in ways that today impress us as quite cruel:
"O Little Soybean" (link) is a parental complaint that a married-out daughter will be scorned for ugliness by her new in-laws.
"We Raise Pigs To Eat Good Meat" (link) argues that pigs have value, but daughters have none.
"Dōng Go The Drums " (link) describes parents' relief and disgust as their daughter is finally carried away in a marriage palanquin.
Return to top
Age Differences. The ideal age for engagement and marriage has varied over time and space, although it has nearly always been believed that the bride should ideally be slightly younger than the groom. Although data are lacking, it seems likely that:
Competition between matchmakers could depress the age of engagement in some areas, sometimes into early childhood.
Socioeconomic stress (war, famine, or simply the cost of an unexpected funeral) could lead to deferral of marriage for at least some people.
Two factors seem especially likely to have produced mismatches between husband and wife. One was the desire of older men for younger brides or concubines. A man willing to pay a high brideprice or accept a low dowry was in a good position to be matched to a girl of modest means who was much younger than he.
The second factor was that in some cases a girl might be wed to a little boy in the hope that she would help in raising him. (This seems to have been especially frequent with adopted daughters-in-law, described below.)
Return to top
Divorce. Divorce appears to have been extremely unusual in dynastic China, although of course it did sometimes occur. Late imperial family law, based on earlier moral and legal codes, provided seven broad grounds for divorce, dating back to the Book of Rites in the Confucian —specifically the Běnmìng 本命 section of the "Rites of Dài the Elder" (Dà Dài Lǐ 大戴礼) of the second century BC. But there were also three protections against divorce.
It is easy to understand both the grounds for divorce and the protections against it by thinking of the analogy of a corporation hiring a worker. In essence, the new family member had to prove herself a valuable team player, a person capable of doing the job for which she was recruited, of getting on with the other members of the family, and of advancing (or anyway not hindering) family interests. When she had been in a family for a reasonable period, she was "off probation" and could no longer be divorced. With this in mind, let us look at the two lists:
Seven Grounds for Divorce (Qī Chū 七出)
As Phrased in Imperial Law
Seen From a Modern
Corporate Standpoint
She is insubordinate to a parent-in-law.
(bú shùn fùmǔ 不顺父母)
She is insubordinate to authority.
She fails to bear a son.
(wú zǐ 无子)
She fails in the main job for which she was hired.
She is lewd and vulgar.
(yínpì 淫僻)
She attracts unfavorable comment and offends clients.
She is envious.
(jíwù 嫉妒)
She sows discord among the staff.
She is foully diseased.
(èjí 恶疾)
She is not able to perform her assigned duties.
She is talkative.
(duōkǒushé 多口舌)
She reveals company secrets to outsiders.
She is inclined to theft.
(qièdào 竊盜)
She pilfers company property.
Three Protections Against Divorce(Sān Bùchū 三不出)
As Phrased in Imperial Law
Seen From a Modern
Corporate Standpoint
She has nowhere to return to.
(yǒusuǒqǔ wúsuǒguī
有所取无所归)
Enough time has passed that it is cruel to turn her out.
She already observed full mourning for a parent-in-law.
(gònggēng sānnián zhi sàng
共更三年之丧)
She has passed probation and earned job security.
The family was poor when she entered and is now rich.
(xiān pínjiàn hòu fùguì
先贫贱后富贵)
She has been a significant contributor to corporate success.
(This famous list is not always identically worded. This version is from Le P. Guy BOULAIS 1924 Manuel du Code Chinois. Shanghai: La Mission Catholique, p. 301. The Chinese expressions are not quite those used in the law code, but rather are those used in an earlier document to which the law code alludes. The differences are trivial.)
Return to top.
Concubinage. Until well into the XXth century, most Chinese regarded it as a reasonable thing for a man to take more than one wife, especially if the first wife did not produce male offspring, and so long as the family budget could afford the additional person. The commonest motivation (or anyway pretext) for a man taking a second wife was that the first one did not produce a son. Although this problem was often addressed through adoption (below) or uxorilocal marriage (above), it was also a respectable reason for a second wife, especially in wealthier families. (Secondary wives still exist, although today they are often kept in secret, sometimes in a different country.)
However, there was always a distinction between the first wife or qī 妻 (colloquial fùqī 妇妻) and a secondary wife (concubine), who might be called by a variety of terms, usually involving the syllable qiè 妾. (In modern Chinese a wife is normally referred to as an àirén 爱人 or a tàitài 太太, while a concubine is referred to as a "little tàitài" 小太太.)
In some far western regions under Tibetan influence, a woman could have more than one husband, but for "mainstream" Chinese society that was not possible.
Return to top.
Ghost Marriage. Because a woman could bear children only to her husband's descent line (which she officially shared with him), a woman without a husband could not have descendants. A boy who died before marriage could still have a child —often his brother's— ritually adopted to him, who would be responsible in adulthood for honoring him as an ancestor. But this was not an option for a girl.
One solution was for the family of a dead girl to wait until about the time when she would, if living, have come of age, and then to arrange a marriage with a living groom, to whom she would simply be a second wife.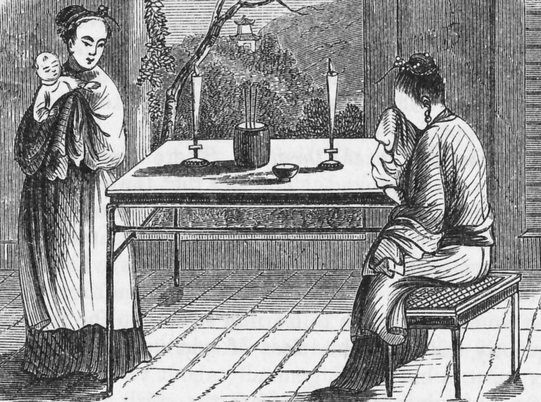 Spirit Medium for the Dead, Mid-1800s


(Doolittle 1865 vol. 2, p. 116)
Such marriages, in which at least one party is already dead, were called mínghūn 冥婚, "netherworld marriages," and they were arranged by spirit mediums specializing in this. In nearly all cases the deceased party was the bride, and the groom was induced by a financial incentive to cooperate in the rites and to maintain the girl's spirit tablet with his other family tablets thereafter.
In my experience, most families did not bother with this, but in some cases gnawing grief, a vivid dream, or an insightful spirit medium would propose that illness or other misfortune in a family was caused by the dead girl wanting to call attention to her plight. (More on séances for the dead.)
In cases I studied, it was usually the ghost's potential groom whose illness was believed to be caused by an unwed girl in his living wife's family. But I believe that to be a distortion caused by entrepreneureal mediums who had already "used up" the unwed girls of the village where I was living. (More on ghost marriage.)
(A portion of Chapter 8 of my Gods, Ghosts, & Ancestors is devoted to this subject and is available on this web site —link.)
Return to top.
Remarriage. Traditional China always honored the "chaste widow" or guǎfù 寡妇, literally the "lonely wife," who, on the death of her husband (or fiancé), did not remarry, but remained attached to her husband's household and continued to serve his family.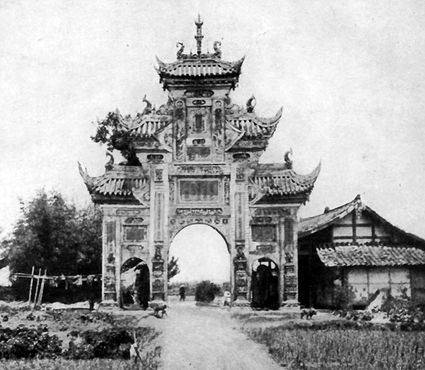 "Chastity Arch" Commemorating a
Virtuous Widow


(Kendall 1913, p.168)
An important consideration was such a woman's economic security, since she was legally entitled to continuing support from her dead husband's family just as she was obligated to continue her service to it.
In the case of young widows, the practice of remarriage seems to have been far more common than not, or so we must concludes from the fact that at least some women who did not remarry after early widowhood could be honored for this by the erection of stone "chastity" arches (zhēnjié páifāng 贞节牌坊), some of them quite elaborate. (The photo here was taken in Sìchuān 四川 Province in about 1911.)
Remaining with the family of a dead husband or fiancé was not always comfortable for all parties concerned. Some law cases turned on efforts by other family members to eject or marry off younger widows, or to sell them as prostitutes or servants. Others turned on the "escape" of widows from intolerable servitude, or their voluntary abduction by lovers. As far as I know, we lack detailed data on actual practice, but it seems likely that most younger widows, especially without children, probably did eventually remarry in most periods (with varying levels of enthusiasm or family approval), while most older widows probably did not.
Not surprisingly, a man was expected to remarry after a decent interval following the death of a wife if she had not given birth to a son. Indeed, failure to do so risked ugly gossip of his being unfilial if he did not at least adopt a son to carry on his ancestors' descent line. (Note)
If a man already had a son, on the other hand, remarriage was regarded as largely a matter of his comfort and was left to his discretion. (Especially in the case of very small households, and the death of a fairly young wife, a more urgeny consideration was having a caretaker for any children involved.)
In general, growing old without a wife was considered a greater tragedy for a man than growing old as a chaste widow was for a woman, so "re-matchmaking" for elderly men was probably always a feature of Chinese life, just as it is today.
The north Chinese folkloric "songs" cited several times earlier suggest something of the need that a man has for a wife, quite aside from any considerations of carrying on a descent line.
"Grandpa's Got Himself a Wife" (link) comically describes an old widower's disappointing efforts to find a new wife.
"The Lonely Bachelor" (link) suggests a man can't really take care of himself without a woman to manage him, but at the end offers a wink to his independence when single.
"A Very Little Boy" (link) comically describes the desire of a little boy to be married, apparently merely to show he is a grown-up.
Return to top, page outline.
---
V. Sexuality
Section Outline
Received Wisdom. Traditional Chinese society was as prudish about sex as any other society, but since the population reproduced itself it is hard to believe that very many people were fooled by the rhetoric.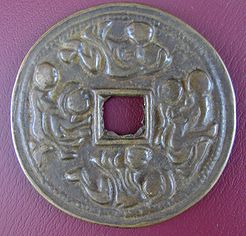 Brothel Token Showing Whoopee Positions


(private collection)
The Confucian view was that sex properly occurred between married people and was for the purpose of producing heirs. Beyond that it was undignified.
The Daoist view was that it was probably dangerous unless accomplished using various esoteric techniques (when it could prolong life).
The Buddhist view was that it tended to distract one from the business of improving one's karma and eventually attaining enlightenment.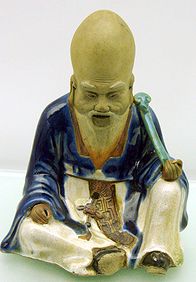 The God of Longevity (XIXth Century)


(Hong Kong Museum of Art)
In short, no respectable philosophical school advocated unrestrained whoopee-making. But, as anywhere else, a lot of whoopee was, of course, made. (The "coin" shown above purports to be a copy of a late dynastic brothel token, with suggested sexual positions molded into it.)
Sexual Intercourse. Sexual intercourse was traditionally considered dangerous for men, since they lost semen, which was identified as a man's "yáng-essence" and was thought to be a non-renewable resource necessary for life, a belief that is still widespread. (Daoist longevity exercises involved attempts to avoid ejaculation and instead, through meditation, to recirculate semen up the spine and into the top of the head. Appropriately enough, the "god of longevity" is represented in art with a vertically elongated head.)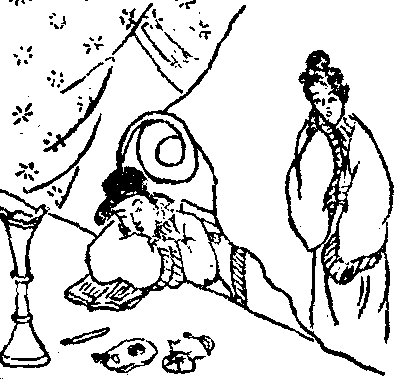 Dangerous Dream Girl, Early XXth Century


(Anonymous, 1919)
Folklore includes tales of lonely scholars seduced by beautiful maidens who appear in the night (sometimes in dreams) and turn out to be yáng-sucking she-devils, often transformations of dreaded fairies whose real form is that of a fox. (Click here for examples.)
It is not clear what level of worry the prospect of losing their yáng essence would actually have stimulated in most young men. The introduction of an unknown bride into a young groom's life may have been somewhat more traumatic for some because of this belief. But clearly, rampant promiscuity was not something that one boasted of, at least in the presence of folklorists.

Return to top.
Extramarital Sex. Since marriages were usually (and ideally) by parental arrangement, the sexual attractiveness of the spouses (at least to each other) was at best a very secondary consideration. So was their emotional or intellectual compatibility. This is not to say that married people didn't love each other, but their love was expected to grow up over years of association as spouses, not to be an initial or immediate infatuation . The modern expression for this is "wed first, love afterward" (xiān jiéhūn, hòu liàn'ài 先结婚后恋爱). Unfortunately, "afterward" could be a long time coming, and it should not surprise us if many people believed there was greener grass in other pastures.
Prostitution was (and is) therefore not uncommon, and we know of it from literary references and from occasional notation by visitors to China. For women it has always been the polite assumption that prostitution was the last option for the desperately unfortunate. (More) Prostitution was often associated with female entertainers in eating establishments with largely male clientele, but actors were also stereotypically thought to be people of loose morals, and since traditionally all actors were male, those who played female parts were suspected of being available as male prostitutes. (More, comment.)
A woman was not free to engage in extramarital sexual liaisons (although of course they did occur sometimes), since children she might bear were to be the family heirs and hence should not be fathered by outsiders. However there was no similar constraint on men, whose extra-marital sexual affairs were usually regarded as unfortunate but as significant only if they threatened to drain family wealth away from legitimate claimants. If they fathered (and acknowledged) children, these might be subordinate to "legitimate" children, but were often more or less successfully assimilated into the man's family.
Return to top.
Homosexuality. This tolerance comprehended both heterosexual and homosexual affairs for males, it appears, and some of the warm male friendships and sworn brotherhoods celebrated in Chinese poetry, folklore, and history were almost certainly homosexual relationships. Historical sources tend to be both coy and limited to upper-class life, limiting our insight into the matter. (Bibliographic note.)
The compact language of Chinese verse can easily leave the gender of both speaker and lover unclear, so love poetry was probably written or read as gay oftener than most translators suspect. For example, one of the songs from the same source as the ones cited earlier, describes the tryst of a married man with someone who could as readily be male as female [link]. But such gender ambiguity is not unusual in folk songs. (More examples)
But such ambiguities are found even as early as the poems in the Book of Songs in the Confucian Canon [link —see items 2 and 4]. Although it was not [and still is not] feasible for homosexuals to establish marriages and households together, intensely affectionate same-sex companionship was ignored or even admired so long as familial obligations were also observed.
Similar broad generalizations probably apply to lesbians through most of Chinese history, but one must remember that "good girls" were severely restricted in when and why they could leave a family compound, so their social worlds would have included fewer opportunities for the discovery and cultivation of lesbian companions. (More on women's social networks.)
(I do not know of a study of family values among Chinese homosexuals similar to the one mentioned about prostitutes and nuns; there is some hint that family values in this group today are largely mainstream. It seems very likely that, as elsewhere, when a gay person is anchored in a reluctantly accepted or arranged heterosexual marriage, his or her emotional investment in offspring somewhat offsets the absence of sexual attraction to the assigned spouse.)
Today, there is still a strong concern to maintain descent lines (and even more so the support of elderly parents), and this still normally requires that gay men (known colloquially if ironically as "comrades" or tóngzhì 同志) marry women and father children, usually concealing their sexual preference in order to remain both marriageable and respectable. The wife of a tóngzhì is called a tóngqī 同妻, and such marriages, when spoken of at all, are referred to as tóngqī marriages. The descent-line argument should perhaps be less compelling for lesbian women, but it appears that they too enter heterosexual marriages in the interest of social conformity.
One 2012 estimate, by the director of the Chinese affiliate of Parents and Friends of Lesbians and Gays (PFLAG) (Tóngxìngliàn Qīnyǒu Huì 同性恋亲友会), a gay-support group, was that about 90% of gay Chinese youths hide their homosexuality and enter heterosexual marriages to avoid disapproval by their families (The Economist 2012-09-15, p. 42).
(Some of my students have suggested that open endorsement of gay marriage for men could help alleviate the imbalance in numbers of marriage-age men and women in modern China caused by the combination of the one-child policy —yītāizhì 一胎制— of 1979-2015 and the selective abortion of female fetuses. This is logical, and arguably could even provide better old-age security for the parents of both partners, but in China there appears to be little support for such an idea.)
Return to top, page outline.
---
VI. Infanticide & Its Alternatives
Section Outline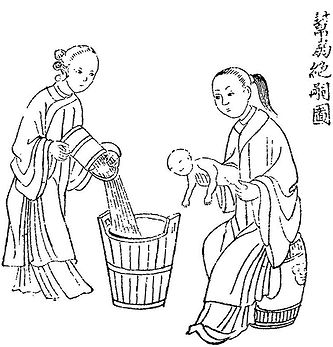 Anti-Infanticide Tract, Late 1800s


(Matignon 1936, plate 26)
Contraception & Abortion. Contraception and abortion were both practiced, but both were dangerous and unreliable. Since boys could carry on the family descent line and girls could not, boys were considered more valuable children; therefore if families simply could not afford additional mouths to feed, it was girls more often than boys who were disposed of. Desperate families sometimes sold newborn girls —see below— or killed them, typically by drowning them head-downward in a bucket of water. This practice was considered outrageous, and various religious and other moral societies carried out a constant propaganda war against it —the picture here, from the late 1800s, is from a tract condemning it. However, the grinding poverty that underlay infanticide was widely acknowledged, and poverty was inevitably the pretext provided by families caught practicing it. (For an interesting condemnation of the practice by the XIth-century poet and essayist Sū Dōngpō 苏东坡, click here.) (Further note.)
Today abortion is much safer than in the past and has become routine in China, partly in response to the famous "One-Child Policy" of 1979-2015 (and to a far more limited extent to the brief "Two Child Policy" that replaced it until August of 2021, when a three-child limit went into effect). It is technically illegal to identify the sex of a fetus in order to abort girls but not boys, however the greater number of boys than girls being born suggests that selective abortion is common. In Taiwan (and Japan) aborted fetuses are sometimes believed to become restless ghosts (called yīnglíng 婴灵), and specialized exorcists and mortuaries have grown up to attend to them. (The most extensive study is: Marc L. MOSKOWITZ 2001 The Haunting Fetus. Honolulu: U. of Hawai'i Press.)
Return to top.
Selling of Children. As in other parts of the world, unwanted children, or children that could not be supported, were sometimes sold, although the line between sale and adoption was not always very clear. This brought in a small amount of needed cash, and the parents could console themselves that the buyer might be able to provide better conditions for the child than they could. Not surprisingly, along with a market for children came kidnapping of unguarded ones to be sold into that market, and Herbert Giles reports that in late dynastic times penalties for kidnapping rose to such an extent that a formal bill of sale was executed by legitimate buyers to avoid charges of theft. (More)
Adopted Daughters-in-Law. When an unwanted additional girl was not killed, she might be given or sold to a wealthier family to work as a serving girl. Alternatively, she might be transferred, at any age from shortly after birth to about ten or eleven, to a poor family where she would be raised as an "adopted daughter-in-law," intended to become the eventual wife of the family's son or, in the absence of other children, as the anchor for eventually attaching an uxorilocal son-in-law. This avoided the cost of an engagement, extensive entertaining, and wedding gifts.
In most parts of China, such an "adopted daughter-in-law" was called a "daughter-in-law raised from childhood" (tóngyǎng xí 童养媳). Pending that marriage, she would work essentially as a servant in the family, sometimes charged with the care of the little boy who would later become her husband. When the wedding day arrived (selected by a fortune teller), it was only very modestly celebrated. Like infanticide, these kinds of arrangements were obviously also adaptations to extreme poverty.
Although the custom seems to have vanished throughout China by the middle of the XXth century, the bride who was older than her child husband remains alternately a comic figure and a tragic one in popular Chinese imagination. Nor surprisingly, it too has been the subject of the folk jingles we have so often quoted above. Here are a couple examples:
"I Could Be Your Mother" (link) points out the irony of a wife old enough to be a boy's mother.
"A Husband at the Well" (link) underlines the hostility felt by the nursemaid bride towards the little boy who has forever cut off her chances for a "real" marriage.
Not surprisingly, given their association with poverty, such marriages were held in very low esteem, and it is easy to see how they would have seemed disagreeable to the bride and groom. The custom seems to have been most widespread in Taiwan (so much so that the term "minor marriage" is sometimes used for it in English). In that region it was most common at the end of the Qīng 清 dynasty and well into Taiwan's period of Japanese occupation (1895-1945). (More.)
Return to top, page outline.
---
VII. Adoption & Other Fictive Kinship
Section Outline
Given the critical importance of kinship in Chinese society (as elsewhere), it is not surprising to find adoption and other forms of fictive kinship. Such arrangements can establish by cultural convention relationships thought badly handled by fickle nature. (Kinship, after all, is a cultural idea with a biological inspiration; where nature fails, culture makes the necessary repair.)
In Chinese, the syllable yì 义, "righteous," was frequently used as a prefix to designate adoptive relationships. For example, an adopted son would be called an yìzǐ 义子 or "righteous son" and his father an yìfù 义父 or "righteous father." (Linguistic note.) However other terms are found in local use, sometimes with more specialized meanings.
Adoption ranged from full responsibility for a child to a kind of superficial god-parenthood, depending upon the period, place, circumstances, and personalities involved. In general, adoption occurred when:
A child needed to be cared for.
An example might be a daughter born to a family too poor to raise her. Another example might be a child whose parents had died.
Someone needed an heir (1).
An example might be a couple who had failed to produce a son, and who adopted a son from a relative. Such adoptions varied in actual detail, although they were nearly always boys. Such an "heir adoption" was often purely nominal, the only actual transfer being the boy's eventual obligation to tend to ancestral rites for the adopting parent. At the other end of the scale, a child might be transferred to a new family, given a new surname, and cut off from any continuing reltionship with his natal family. But many intermediate forms are found. For example, parties would somtimes agree that the adoptive son's first child (or first son) would be filiated to the adopting descent line and subsequent children to the adoptive son's original line (or vice versa).
Someone needed an heir (2).
Occasionally an heir was needed but no appropriate boy was available to be adopted, and a couple lacked a daughter whose husband could be made their successor. In such a case, a girl might be adopted, whose eventual husband would be treated as the son for purposes of continuing the family line. In a kind of "pre-nup" contract, parties would agree to a division of future children between descent lines for ritual purposes, more or less the way plans would be made in the case of an adopted son, just mentioned.
A daughter-in-law was needed.
This is the comparatively rare case of the adopted daughter-in-law mentioned above.
An especially frail child was born.
Such a child could be reassigned to a friend or relative who had conspicuous success in raising children. Often there was no actual change of residence, and the adoption could be considered largely a matter of ritual. In some parts of China —my impression is especially western China— this practice became quite common.
A friend of the family seemed likely to contribute to the welfare of the child.
Such a friend might be a prominent scholar or even a Buddhist priest, who was not expected to raise the child, but merely to express concern about its general welfare and provide benign moral guidance. Sometimes an affluent friend might have such a relationship and also contribute materially to the child's welfare.
Return to top.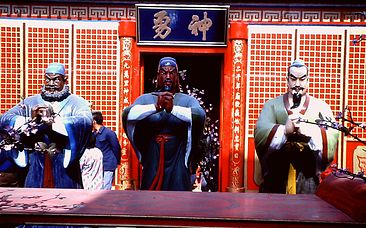 The Peach Garden Oath


(temporary temple in Yúnchéng, 1992)
Sworn siblinghood was created by the parties themselves by means of a simple oath, usually accompanied by made-up ceremonial trappings and a shared meal. The model for the oath was one taken in a peach orchard during the Three Kingdoms period (220-280) by three flamboyant warriors, who pledged to die together in shared loyalty to each other. (They are shown here in a temporary festival chapel in Yúnchéng city, Shānxī province 山西省云城市.) (Oath Text)
Depending upon whether the group was male or female, they were thereafter described as "sworn brothers" (jiébài xiōngdì 结拜兄弟) or "sworn sisters" (jiébài jiěmèi 结拜姐妹), although other terms also can be applied. I have written in more detail about this in an article reproduced elsewhere on this web site. (Link) Sworn siblinghood could occur when:
Two or more people (usually of the same sex unless the group was large) felt a special affinity to each other.
Two or more people (usually of the same sex unless the group was large) joined in a common cause (commercial, military, criminal, political, or other).
Communities required a code of laws, which could be incorporated into an oath among their leaders. (Click here for an extreme example of such a case.)
A striking feature of sworn siblingship is that it can entail responsibilities between family members of the parties involved, even though it may be undertaken, even by young people, without consulting other family members. There is little research on this topic, but it may be one of the very few spheres in which traditional Chinese society permitted autonomy in formalized social relations for young people.
Closing Observation
I have now finished fifty years of teaching this material in California. Few students —including Chinese students— find it comfortable; and none long to return to the "Good Old Days" of dynastic China. It was a world that we see today as horribly constrained, especially for women, and a world in which much of the creative thought and most of the individualism that modernity so values was actively discouraged.
But the traditional Chinese family system, however selective or limited the admiration it inspires among people now (or did even in the past), not only worked, but worked extremely well, maintaining an ordered society century after century, a society in which most people could live predictable, reasonably satisfying, only slightly neurotic lives, anchored in the hoary and homey wisdom of practical experience. This merits, if not our envy, certainly our understanding and respect.
DKJ, La Jolla, April 21, 2019
Return to top, page outline.
---
Picture sources:
Anonymous 1919 改良居家必備不求人. Xiàmén: 會文堂. (Dangerous Woman Dream)
DINGLE, Edwin J. 1911 Across China on foot: life in the interior and the reform movement. Briston: J.W. Arrowsmith, Ltd. (Chinese family, p. 132. Priest, p. 237. Graveside feast p. 273.)
DOOLITTLE, Justus 1865 The Social Life of the Chinese New York: Harper. (Medium for the dead, vol 1, p. 415.
GOODRICH, L. Carrington & Nigel CAMERON 1978 The face of China as seen by photographers and travelers 1860-1912. Philadelphia: Philadelphia Museum of Art. P. 41 (Photo of newlyweds.)
KENDALL, Elizabeth 1913 A wayfarer in China: impressions of a trip across west China and Mongolia. Boston: Houghton Mifflin Company. (Arch commemorating a virtuous widow, p. 168)
KNOX, Timothy W. 1870 Overland through Asia: Siberian, Chinese, and Tartar life. Hartford CT: American Publishing Company. (North Chinese family, p. 205)
MacGOWAN, John 1912 Men and manners of modern China. London: T. Fisher Unwin. (Bridal procession page 253; White Deer Monstery Priest, p. 145.)
MATIGNON, J. J. 1936 La Chine hermétique: superstitions, crime et misère. Paris: Librairie Orientaliste Paul Geuthner. (Female infanticide, plate 26; "Sian-kôn," plate 28.)
PHILLIPS, E. C. 1882 Peeps into China: or the missionary's children. London: Cassell. (Newlyweds engraving, p. 185.)
SMITH, Arthur H. 1894 Chinese characteristics. New York: Fleming Revell. (Successful nuclear family: parents & two sons, p. 132.)
SMITH, Arthur H. 1899 Village Life in China. New York: Fleming Revell. (Crop watcher's lodge, p. 162.)
WILLIAMS, S. Wells 1883 The middle kingdom: a survey of the geography, government, literature, social life, arts, and history of the Chinese empire and its inhabitants. Revised edition. Vol 1. (Court scene, page 504.)
---
Dīngcūn Folklore Museum, Shānxī Province 山西丁村民俗博物馆. (Matchmaker, from a museum mural.)
Hong Kong Museum of Art. (God of longevity.)
Private collection. (Brothel token.)
"Mini Cathay" (Xiǎorénguó 小人国) Outdoor Museum, Lóngtán 龙潭, Taiwan (Earth tower.)
Yúnchéng Municipal Guāndì 关帝 Festival, 1992. (Peach Orchard Oath.)
Return to top, page outline.
There have been

visits to this page since 2017-02-13.