Content created: 1998-03-29
File last modified:


Zhū Bólú's Maxims
for Managing the Home

朱柏卢之治家格言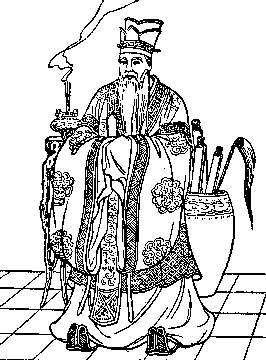 Introduction
ZHŪ Bólú 朱柏卢 is the hào 号 or "friends' name" given to Zhū Yòngdūn 朱用钝.
Zhū lived in the Kūnshān Xiàn 昆山县 district of Jiāngsū 江苏 Province from 1617 to 1688. His father, Zhū Jíhuáng 朱集璜, had been a rural scholar during the chaotic collapse of the late Míng 明 dynasty and led a group of vigilantes to defend the Kūnshān community against wandering bands of brigands.
Zhū Bólú had passed a Xiùcái 秀才 examination under the Míng régime and was well on his way to an official career, but the dynasty collapsed when he was in his 20s, and so he spent most of his life as a rural schoolteacher and geomancer. In that role, he gradually attained local fame for his learning and morality, and under the Qīng 清 dynasty Kāngxī 康熙 emperor (reign 21a, 1662-1722) he was invited to serve as a local official, but declined to do so, presumably out of loyalty to the fallen dynasty.
Zhū's writings included several volumes of essays and commentaries on the Confucian classics. None came anywhere near attaining the fame of the stubbornly Confucian "Maxims for Managing the Home," presented here.
"Zhū Bólú's Maxims for Managing the Home" 朱柏卢之治家格言 was prepared with the intent to spread morality like jam over the land, and Zhū came to be called "Master Zhū" (朱子). Hence the text is also popularly called "Master Zhū's Maxims for the Home." (朱子家顺).
Today it is one of the most commonly reprinted of the classical popular morality tracts. Copies are frequently distributed free in temples, but it is also typically included as an appendix to almanacs, or in small collections of morality literature.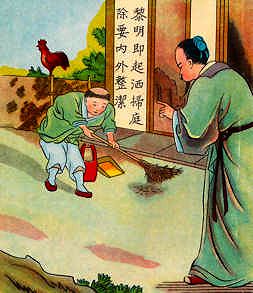 It is hard to imagine that a family run on Zhū's principles would be a particularly jolly place. Indeed most of his injunctions, from getting up early in the morning to avoiding luxuries or hiring only ugly servants, make him out to be a dampenglee of the first order. (The picture at right is a modern artist's illustration of the opening lines. Although the text seems to be addressed to the household head, it is not he who is doing the sweeping as the cock crows. He supervises.)
On the other hand Zhū also counsels honesty, generosity, and fair dealing, which goes to the heart of Confucian civic responsibility (although not exactly jolliness). Zhū's maxims, taken together, constitute a surprisingly full representation of how traditional China held that an ideal family head and his family should behave. The lingering popularity of the work suggests that even in the XXIst century, the maxims continue to attract interest, not just as an historical document, but as the outline of a commendable way of life.
---
Go to English Only Version
Return to top.
Zhū Bólú's Maxims for Managing the Home
朱柏卢之治家格言
Zhū Bólú zhi Zhìjiā Géyán
朱柏盧之治家格言


1. At dawn get up immediately, sprinkle and sweep the hall & porch, so that inside and outside are tidy and clean.
梨明即起,洒扫庭、除,要内外整洁。
Límíng jí qǐ sǎsǎo tíng, chú, yào nèiwài zhěng jié.
梨明即起,灑掃庭、除,要內外整潔。
2. Then go to bed at dusk, and personally close and lock the doors.
既昏便息。关锁门户必自捡典。
Jì hūn biàn xí. Guān, suǒ ménhù, bì qīn zì jiǎndiǎn.
既昏便息。關鎖門戶必自撿典。
3. With each bowl of gruel or rice you should recall that its production is not easy.
一粥一饭当思来处不易。
Yì zhōu, yí fàn, dāng sī láichù bú yì.
一粥一飯當思來處不易。
4. With each half length of silk or hemp, always remember "to make a thing is very hard."
半丝半缕恒念物力维艰。
Bàn sī, bàn lyǔ, héng niàn wù lì wéi jiān.
半絲半縷恆念物力維艱。
5. It is good to make preparations before it rains; don't wait for thirst before you dig a well.
宜未雨而绸缪。毋临渴而掘井。
Yí wèi yǔ ér chóumóu. Wú lín kě ér jué jǐng.
宜未雨而綢繆。毋臨渴而掘井。
6. Be frugal in your comforts for yourself; when a guest do not prolong your stay.
自奉必须俭约。宴客切勿留连。
Zì fèng bìxū jiǎnyuē. Yàn kè qièwù liúlián.
自奉必須儉約。宴客切勿留連。
7. If utensils are of good quality and clean, then pottery is better than gold or jade.
器具质而洁,瓦缶胜金玉。
Qìjyù zhí ér jié wǎfǒu shèng jīn yù.
器具質而潔,瓦缶勝金玉。
8. Drink and food should be simple, and well-prepared garden vegetables are better than precious delicacies.
饮、食约而精,园菽愈珍羞。
Yǐn-shí yuē ér jīng yuán shū yù zhēn-xiū.
飲、食約而精,園菽愈珍羞。
9. Do not build a gorgeous house. Do not scheme for choice lands.
勿营华屋。勿谋良田。
Wù yíng huá wū. Wù móu liáng tián.
勿營華屋。勿謀良田。
10. The "three types of nuns and six kinds of old crones" are introducers of promiscuity and theft.*
三姑、六婆,实淫、盗之媒。
Sān gū, liù pó, shí yín-dào zhi méi.
三姑、六婆,實淫、盜之媒。
Go to English Only Version
Return to top.
11. When the maids are beautiful and the concubines charming, this is not a blessing in the women's quarters.
婢美、妾娇非闺房之福。
Bì měi, qiè jiāo, fēi guīfáng zhi fú.
婢美、妾嬌非閨房之福。
12. For servants, don't employ handsome boys.
童仆勿用俊美。
Tóngpú wù yòng jyūnměi.
童僕勿用俊美。
13. Wives and concubines must avoid beautiful clothing.
妻、妾切忌艳妆。
Qī, qiè qiè jì yàn zhuāng.
妻、妾切忌艷妝。
14. Although ancestors are remote, they may not be worshipped insincerely.
祖宗虽远,祭祀不可不诚。
Zǔzōng súi yuǎn, jìsì bù kě bù chéng.
祖宗雖遠,祭祀不可不誠。
15. Although children and grandchildren be simpletons, they must read the Classics.
子、孙虽愚,经书不可不读。
Zǐ, sūn súi yú, jīngshū bù kě bù dú.
子、孫雖愚,經書不可不讀。
16. Personal habits must be simple; children must be taught by righteous methods.
居身务期俭朴。教子要有义方。
Jūshēn wù qí jiǎnpú. Jiào zǐ yào yǒu yì fāng.
居身務期儉樸。教子要有義方。
17. Do not seek unexpected wealth; do not drink beyond your capacity.
勿贪意外之财。莫饮过量之酒。
Wù tān yìwài zhi cái. Mò yǐn guòliàng zhi jiǔ.
勿貪意外之財。莫飲過量之酒。
18. Do not take advantage of a vendor as he carries his wares on a shoulder pole.
与肩挑贸易毋占便宜。
Yǔ jiān tiǎo màoyì wú zhàn piányí.
與肩挑貿易毋佔便宜。
19. On meeting relatives and neighbors who are poor or in distress, show kindness and compassion.
见贫、苦亲、邻须多温恤。
Jiàn pín-kǔ qīn-lín xū duō wēnxù.
見貧、苦親、鄰須多溫恤。
20. A family founded in meanness will not long prevail.
刻簿成家理无久享。
Kèbó chén jiā lǐ wú jiǔ xiǎng.
刻簿成家理無久享。
21. When human relationships* are perverted destruction instantly follows.
伦常乖舛立见消亡。
Lúncháng guāichuǎn lì jiàn xiāowáng.
倫常乖舛立見消亡。
Go to English Only Version
Return to top.
22. Among brothers, uncles, and nephews, those with much should help those with little.
兄弟叔 须分多润寡。
Xiōngdì, shúzhí xū fēn duō rùn gǔa.
兄弟叔姪須分多潤寡。
23. Between old and young, women and men, decorum should be strict and speech dignified.
长幼、内外宜法肃辞严。
Zhǎng-yòu nèi-wài yí fǎ sù, cí yán.
長幼、內外宜法肅辭嚴。
24. Listening to a wife's talk and harming one's own kin: how can this make one a good husband?!
听妻言乖骨肉岂是丈夫?
Tīng qī yán, guāi gǔ-ròu, qǐ shì zhāngfū?
聽妻言乖骨肉豈是丈夫?
25. Valuing wealth but slighting parents is unbefitting a son.
重资财簿父母不成人子。
Zhòng zīcái, bó fùmǔ bù chéng rén zǐ.
重資財簿父母不成人子。
26. In marrying off a daughter choose a good son-in-law; do not demand a heavy brideprice.
嫁女择佳婿,毋索重聘。
Jià nyǔ zé jiā xù, wú suǒ zhòng pìn.
嫁女擇佳婿,毋索重聘。
27. In wedding a wife [to your son], seek a virtuous girl; do not count a heavy dowry.
娶妻求叔女,毋计厚奁。
Qǔ qī qiú shú nyǔ, wú jì hòu lián.
娶妻求叔女,毋計厚奩。
28. A person who fawns before the rich and noble is most contemptible.
见富贵而生谄容者最可耻。
Jiàn fùguì ér shēng chǎnzhóng zhě, zuì kě chǐ.
見富貴而生諂容者最可恥。
29. One who is haughty before the poor is mean beyond measure.
见贫穷而作骄态者贱莫甚。
Jiàn píngqióng ér zuò jiāotài zhě, jiàn mò shèn.
見貧窮而作驕態者賤莫甚。
30. A respectable family avoids lawsuits, for lawsuits in the end are evil.
居家戒争讼,讼则终凶。
Jūjiā jiè zhēngsòng, sòng zé zhōng xiōng.
居家戒爭訟,訟則終兇。
31. In social intercourse, avoid excessive talking; excessive talking causes losses.
处世戒多言,言多必失。
Chǔshì jiè duō yán, yán duō bì shī
處世戒多言,言多必失。
32. Do not rely on your position to oppress orphans and widows.
毋恃势力儿苓逼孤、寡。
Wú shì shìlì ér língbī gū, guǎ.
毋恃勢力兒苓逼孤、寡。
33. Do not so lust after fine food that you needlessly kill cattle and fowl.
毋贪口腹儿恣杀牲、禽。
Wú tān kǒufù ér zì shā shēng, qín.
毋貪口腹兒恣殺牲、禽。
34. Obstinacy and self-approval result in many regrets.
乖僻、自势悔误必多。
Guāipì, zì shì huǐwù bì duō.
乖僻、自勢悔誤必多。
Go to English Only Version
Return to top.
35. Among the lazy and self-indulgent, it is difficult for a family to succeed.
颓惰自甘家道难成。
Tuíduō, zìgān jiā dào nán chéng.
頹惰自甘家道難成。
36. Associating with evil youths, one must eventually be implicated [in their evil].
狎昵恶少久必受其累。
Xiánì èshào jiǔ bì shòu qí lèi.
狎暱惡少久必受其累。
37. To be humble before the people who are older and more experienced will serve in time of trouble.
屈志老成急则可相倚。
Qūzhì lǎochéng jí zé kě xiāngyǐ.
屈志老成急則可相倚。
38. How is one to know words lightly heard are not other people's slander? One must be patient and think two or three times.
轻听发言知非人之赞诉?当忍耐三恩。
Qīngtīng fāyán zhī fēi rén zhi zànsù? Dāng rěnnài sān sī.
輕聽發言知非人之讚愬?當忍耐三恩。
39. If you quarrel over something, how do you know it is the other who is wrong? One must rethink things with a calm heart.
因事相争,安知非我之不是?须平心再想。
Yīn shì xiāng zhèng, ān zhī fēi wuǒ zhi bú shì? Xū píng xīn zài xiāng.
因事相爭,安知非我之不是?須平心再想。
40. Don't think about your own acts of benevolence; but never forget kindnesses received.
施惠勿念。受恩莫忘。
Shīhuì wù niàn. Shòu ēn mò wàng.
施惠勿念。受恩莫忘。
41. In all things allow spare ground. Having obtained the objective, don't go further.
凡事当留馀地。得意不宜再往。
Fán shì dāng liú yú dì, dé yì bù yí zài wǎng.
凡事當留餘地。得意不宜再往。
42. When others celebrate happy occasions, do not be envious.
人有喜庆,不可生妒忌心。
Rén yǒu xǐqìng, bù kě shēng jídù xīn.
人有喜慶,不可生妒忌心。
43. When others suffer misfortunes, do not rejoice.
人有祸患,不可生喜幸心。
Rén yǒu huòhuàn, bù kě shēng xǐxìng xīn.
人有禍患,不可生喜幸心。
44. Good done so people can see it is not a good deed.
善欲人见,不是真善。
Shàn yù rén jiàn, bú shì zhēn shàn.
善欲人見,不是真善。
45. Evil done that fears exposure is truly great evil.
恶恐人知,便是大恶。
Èkǒng rén zhī, biàn shì dà è.
惡恐人知,便是大惡。
46. To have a lustful heart on seeing a beautiful woman will bring retribution on one's wife and daughters.
见色儿起淫心,报在妻女。
Jiàn sè ér qǐ yín xīn, bào zài qī nyǔ.
見色兒起淫心,報在妻女。
47. To take secret revenge when one has a grudge will bring disaster upon sons and grandsons.
匿怨而用暗箭,祸延子孙。
Nìyuàn ér yòng ànjiàn, huòyán zǐ-sūn.
匿怨而用暗箭,禍延子孫。
48. If a household is harmonious, then although breakfast and supper may be scanty, there will still be great happiness.
家门和顺,虽饔飧不继,亦有馀欢。
Jiāmén héshùn, sūi yōngsūn bú jì, yì yǒu yú huān.
家門和順,雖饔飧不繼,亦有餘歡。
49. If taxes are paid early, then, although one's purse be light, one will feel great satisfaction.
国课早完,即囊橐无馀自得至乐。
Guókè zǎo wán, jí nángtuó wú yú, zì dé zhì lè.
國課早完,即囊橐無餘自得至樂。
50. In study one should aim at [the level of] the saints and worthies, not merely at a degree.
[Students, take heed! —DKJ]
读书志在圣贤,非徒科第。
Dú shū zhì zài shèngxián, fēi tú kēdì.
讀書志在聖賢,非徒科第。
51. As an official one's heart should be with one's lord and country; how can one plan to advance oneself and one's family?!
为官心存君、国;岂计身家?
Wéi guān xīn cún jūn, guó; qǐ jì shēnjiā?
為官心存君、國;豈計身家?
52. Keep in your social position and accept your fate. Follow the times. Obey Heaven.
守分,安命。顺时听天。
Shǒu fèn, ān mìng. Shùn shí, tīng Tiān.
守分,安命。順時聽天。
53. Lead your life in this way and you will approach [the sages].
为人若此,庶乎近焉。
Wéirén ruò cǐ, shùhū jìn yān.
為人若此,庶乎近焉。
Go to English Only Version
Return to top.
---
Sources:
LǏ Mùhuá 李牧華 (ed.)

1985 Zhū zǐ jiā xùn. 朱子家訓。 Taipei: 世紀書局.
(My introduction was based in part on this source.)

Anonymous

Zhūzǐ jiā xùn géyán báihuà jiěshuō. 朱子家訓格言白話解說。 Kaohsiung: 慶芳書局.
(The color illustration is from this source.)

Chén Yànjūn 陳彥君 (ed.)

Zhūzǐ jiā xùn géyán. 朱子家訓格言。 Fengshan: 世峰出版社.
(The portrait of Zhū zǐ is from this source.)