Content created: 2011-02-26
File last modified: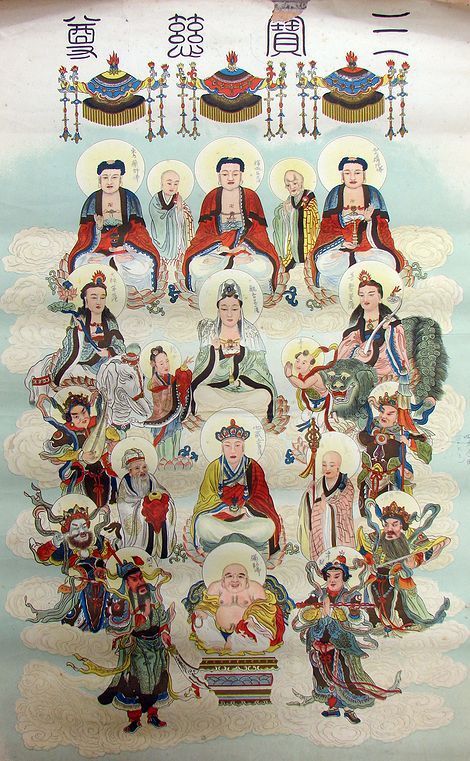 A Beginner's Guide to
A Chinese Buddhist Retablo
Skip to Row 1 2 3 4
This page is designed to help you recognize some of the figures most commonly represented on Chinese Buddhist altars or paintings. The basic picture used here is a cheap paper retablo (definition) from the 1970s, intended to be hung on the wall over a very simple home altar in Taiwan. It includes the figures you are likely to see in statuary in a Chinese Buddhist temple. Larger temples will have statues corresponding to every figure on this page, plus statues of arhats, for which this web site includes a separate page. (Link.)
The inscription across the top reads (right to left): Sān Bǎo Xǐ Zūn 三寶喜尊 (三宝喜尊), "Felicitous Worthies of the Three Treasures." (The three treasures are the Buddha, Buddhist teachings, and the Buddhist clerical community.)
A Chinese Buddhist monk kindly identified most of the figures and used a pencil to write the names on the halos. He made a couple of mistakes, which have been corrected in the text, but not in the pictures. As you look through this page, can you find his mistakes?

Row One: Three Great Buddhas

The two other figures in this row are arhats (luóhàn 罗汉), or disciples of the Buddha. The younger one on the left is the Buddha's favorite disciple Ēnán 阿南 (Ānanda), and the older one on the right is his oldest disciple, Jiāyè 迦叶 (Kassapa) (Arhat Number 17).

(Story Link: The Eighteen Arhats.)
Row Two: Three Great Bodhisattvas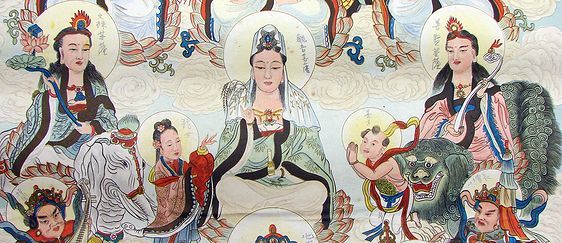 The two smaller figures in this row are young male and female "attendant spirits" (shìshén 侍神) to Guānyīn, frequently shown accompanying her. They are usually referred to simply as "Dragon Girl"(Lóngnǚ 龙女) and "Virtuous Talent" (Shàncái 善才).
(Some people write this last name with the homonymous characters 善财, "Virtuous Wealth.")
Row Three: The Realm of the Dead & the Guardians of Buddhism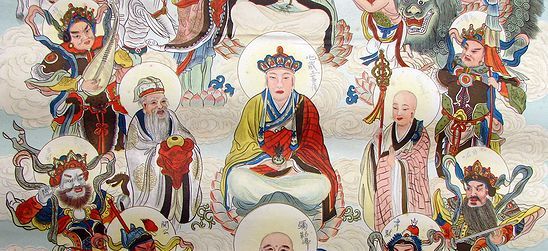 Fourth Row: The Buddha of the Future & More Guardians