Content created: 2020-11-01
File last modified:


The Transformed Corpse
Procursus:
The present story of a reanimated and irrationally homicidal corpse may or may not be a vampire or zombie tale as we know them in English storytelling, since the creature ignores her first victims once they are dead and never catches the one she pursues. But it is unquestionably a story about the depersonalized hostility of a reanimated dead body. For a brief note about Chinese "zombies," click here.
This version, like so many Chinese frightening tales of the supernatural, comes from the brush of the remarkable PÚ Sōnglíng 蒲松龄 (1640-1715), one of the stories in his "Liáozhāi" 聊斋 collection. For more about this remarkable writer, click here.
However Pú is not the only teller of this tale. A closely similar variant was collected as part of an oral tradition project among Chinese in San Francisco in the early 1930s. It is also available on this web site (link). Pú's influence on Chinese ghost lore was enormous, and it is tempting to imagine that the San Francisco version, despite the intervening centuries, is a well remembered retelling ultimately derived from Pú's writings. But Pú himself does not claim originality for his stories, so we do not know how old this one may actually be.

DKJ
The Transformed Corpse
Dramatis Personae
An old innkeeper and his sons
His long-deceased but still unburied wife
Four weary travellers
A temple full of frightened Buddhist priests
A Daoist priest living nearby
A pragmatic magistrate
---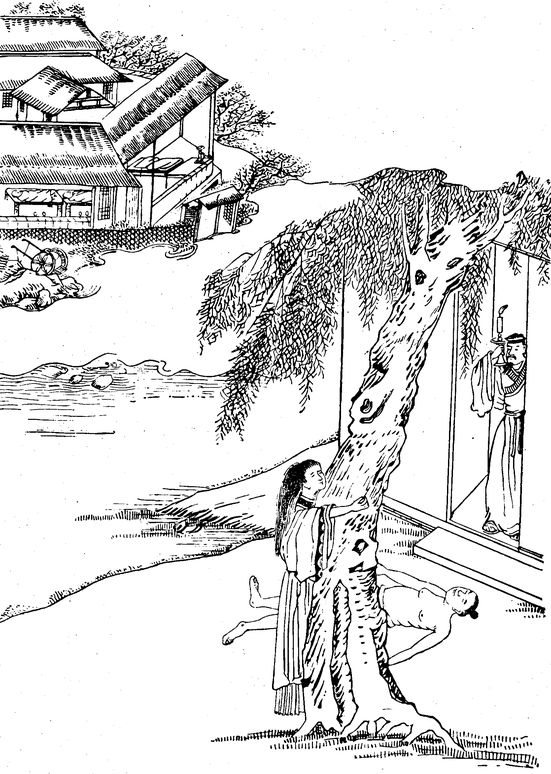 "At that moment he sank to the ground in fright, and the corpse thus missing its victim, remained rigid embracing the tree."
(DeGroot, vol. 5, plate V, facing p. 736)
Acknowledgements: The traditional Chinese text is from the Chinese Wikisource. Pinyin and simplified character versions were mechanically created from it. The translation is from J.J.M. de GROOT 1892-1910 The Religious System of China. Leiden: E.J.Brill. Vol. 5, pp. 734-738. The Wikisource Chinese has been corrected in one or two places, following de Groot, and repunctuated.