Content created: 2007-08-25
File last modified:


Quick Guide to
Indigenous Peoples of Taiwan
A Terminological Note
About 500,000 people in Taiwan (about 2% of the island's whole population) are identified with various "aboriginal tribes," for which the polite term "first peoples" (yuánzhù mín 原住民), is locally used in Chinese at the present time. The Chinese expression is sometimes portmanteaued into English (usually spelled "Yuanzhumin" or "Yuenchumin") to avoid what some English writers suspect may be a derrogatory haze forming over the earlier and etymologically reasonable term "aborigines." ("Aborigine" is from Latin ab = "from" + origine = "beginning.")
In earlier centuries the term "savage" (fān 番) was usual. During the period of the Japanese occupation this was displaced by "highlanders" (takasago 高砂族), which produced the expression "high mountain tribes" (gāoshān zú 高山族) in Chinese. At the height of KMT concern with mobilization to retake the mainland, "high mountain brethren" (gāoshān tóngbāo 高山同胞) was the politically correct, if vaguely silly, Chinese term. (Of the these terms only "high mountain tribes" remains active, no longer as a cover term, but when contrasted with plains tribes, as below.)
In the 1980s discussion about a proper cover term produced "prior in habitants" (xiānzhù mín 先住民), which was rejected because it suggested that there could have been yet earlier populations, a politically unacceptable idea in Taiwan, just as it is among some North American peoples (despite —or perhaps because of— archaeological hints that it may be true).
Individual Tribes
These peoples have traditionally been divided into nine "mountain" peoples and various peoples of the plains, the latter largely rendered extinct through intermarriage into the majority population and loss of tribal languages and identities. The revived respectability, even fashionability, of aboriginal tribal membership in and after the 1990s has led, as in other countries, to some previously "extinct" groups reappearing, and in some cases gaining legal definition and associated legal rights.
Different English and Chinese names have been used for these indigenous peoples of Taiwan, although usage has largely standardized in recent decades. This page provides a quick terminology guide and a few brief notes (source) to help make sense of the jumble of terms.
---
1. Mountain Tribes (Gāoshān Zú 高山族)
1.1 North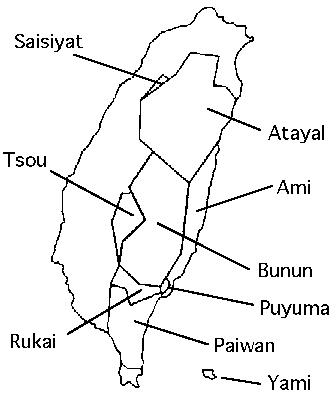 1.2 Central
1.3 South
1.4 Eastern Plains (Rift Valley) Tribes
2. Former Plains Tribes (Píngpǔ Zú = 坪埔族)
Ketagalan, Ketangalan = Kǎidágélán = 凱答格蘭.
Jīlóng 基隆, Dànshuǐ 淡 水 region of Táiběi 台北County, Yílán 宜蘭 County.
Kavalan = Gěmǎlán = 噶瑪蘭.
Yílán 宜蘭 County (Later moved to east central area.). Pop. 1,100 in 2007.
Luilang = Léilǎng = 雷朗.
Táiběi 台北 basin.
Taokas = Dàokǎsī = 道卡斯.
Xīnzhú 新竹 County, Miáolì 苗栗 County.
Pazeh = Bāzé = 巴則.
Táizhōng 台中 County.
Papora = Pāipùlā = 拍瀑拉.
Táizhōng 台中 County.
Babuza = Bābùsà = 巴布薩.
Zhānghuà 彰化 County.
Thao = Shào = 邵.
Sun-Moon Lake (Rìyuètán 日月潭) basin. Pop. 625 in 2007.
Hoanya = Hé'ānyǎ = 和安雅.
Jiāyì 嘉義 County, Táinán 台南 County.
Siraya = Xīlāyǎ = 西拉雅.
Three separate groups in Táinán 台南 County, Gāoxióng 高雄 County, Píngdōng 屏東 County.
Miscellaneous Vocabulary