Content created: 2011-07-15
File last modified:


Simple Map of Taiwan
Go to Tables of Taiwan Place Names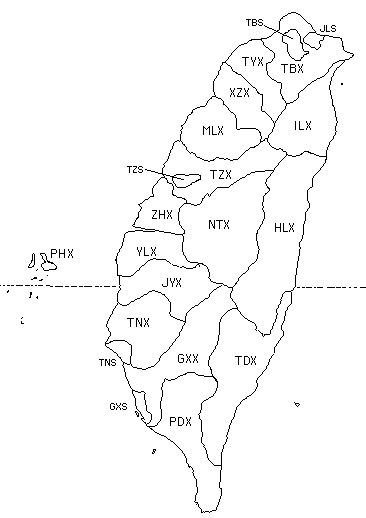 It is a pet peeve of mine that most textbooks use geographical terms that are not found on the maps they provide.
This map covers Táiwān 臺灣 / 台湾, including the Pescadores islands in the Táiwān Strait (constituting Pénghú Xiàn 澎湖縣 / 澎湖县).
The map shows county (xiàn 縣 / 县, Hokkien: koän) names and the names of municipalities (shì 市, Hokkien: chhï) that count administratively at the same level as counties or higher. (A listing of about 400 names of Taiwan administrative units is separately available [link].)
Táiběi City (TBS) and Gāoxióng City (GXS) have long been considered (in Táiwān) to be "special cities" with the equivalent of "provincial" administrative status (comparable to the province of Táiwān itself), and they are therefore no longer part of Táiběi Xiàn (TBX) and Gāoxióng Xiàn (GXX) respectively.
Changes in 2010
Táinán. In 2010, Táinán Xiàn (TNX) was absorbed into Tainan City (TNS), which formerly had itself been part of the xiàn, and the various townships (xiāng 鄉 / 乡, Hokkien: hiong) and zhèn 鎮 / 镇, Hokkien: tìn) within the county were converted to districts (qū 區 / 区, Hokkien: khu), which were further subdivided into neighborhoods (lǐ 里, Hokkien: lí), often corresponding to former villages, although the suffix lǐ was not usually added to their names. Like Táiběi and Gāoxióng, Táinán, made up of the old Táinán Xiàn and Táinán Shì, is now also considered a "special municipality," by area the largest of the three. The consolidation of TNX and TNS is NOT represented on this map, since most sources you are likely to read differentiate them.
Táiběi. By 2010 the population of Táiběi Xiàn exceeded that of Táiběi City, and the Xiàn was given independent city status under the Chinese name "New North City" (Xīnběi Shì 新北市 / 新北市). The official English name however is "New Taipei" rather than Xīnběi to avoid the "Communist" letter X.) As with Táinán, this change involved a cascade of changes as former townships became districts, &c. On this map and associated tables the older names are retained.
Spellings & Abbreviations
The three-letter abbreviations used on this map and elsewhere on this web site for Táiwān county and municipality names are not official; they are my own invention. As with the China map, they allow this one to serve as an exercise in addition to being a reference.
The "postal" spellings are those most common in books about Táiwān. Since 1945 Táiwān's government has tried very halfheartedly to officialize several different Romanization systems, both for place names and more broadly. However, the main goal has been to avoid using the mainland's now universal Pinyin system, and little effort was made in Táiwān to produce efficiency, consistency, or conformity, none of which are in evidence. Expect extreme variation!
Hokkien (Taiwanese) transcriptions on this page make slight compromises with standard spellings to facilitate computer handling. (Details) There is a good deal of dialect variation within Hokkien, even within Taiwan. For example, the city of Jīlóng is ke-lông or koe-lâng or ki-liông or ke-lâng depending upon the speaker. The pronunciations given here follow Guerrino Marescano's English-Amoy Dictionary (Taichung: Maryknoll Fathers, 1979), which lists Central Taiwan Hokkien pronunciations for all three-digit zip codes defined at the time of publication (pp. 857-862).
---
If you would like to print out a reference copy of the map, click on it to get a page with the map alone.
Eight relatively challenging interactive quizzes are available to help you review this page if you wish to use them. Each quiz opens into its own window in case you wish to refer to this page as you try them.
Quiz Links: 1 2 3 4 5 6 7 8 (Quizzes 5 and 6 make use of Chinese Characters rather than Romanized names.)
---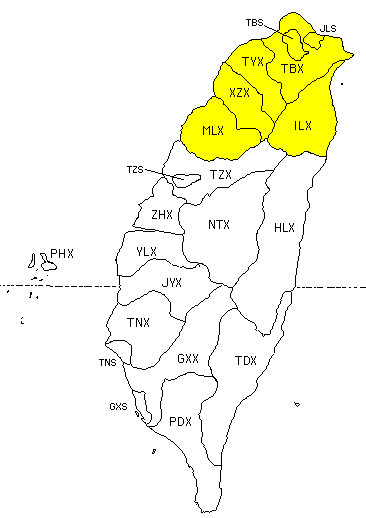 Abbr.
Mandarin
Postal Spelling
& Hokkien
Northern Táiwān
TBS
Táiběi shì
臺北市
Taipei City
tâi-pak chhï
TBX
Táiběi xiàn
臺北縣
(Redefined in 2010 as Xīnběi Shì 新北市)
Taipei Hsien
tâi-pak koän
(Redefined as "New Taipei" in 2010)
XBS
See TBX
New Taipei
sin-pak-chhī
JLS
Jīlóng shì
基隆市
Keelung Hsien
ke-lâng chhï
TYX
Táoyuán xiàn
桃園縣
Taoyuan Hsien
thô-hn̂g koän
XZX
Xīnzhú xiàn
新竹 縣
Hsinchu Hsien
sin-tek-koän
MLX
Miáolì xiàn
苗栗 縣
Miaoli Hsien
biâu-lék-koän
ILX
Yílán xiàn
宜蘭 縣
Ilan Hsien
gî-lân-koän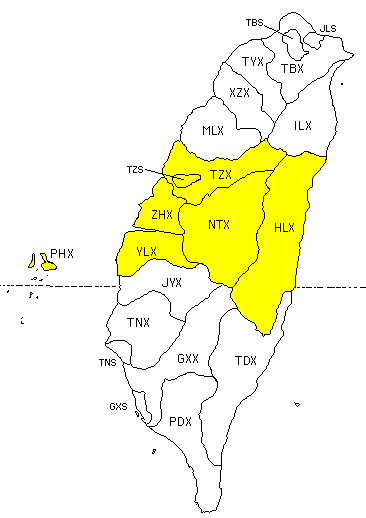 Central Táiwān
TZS
Táizhōng shì
臺中市
Taichung City
tâi-tiong-chhï
TZX
Táizhōng xiàn
臺中縣
Taichung County
tâi-tiong-koän
ZHX
Zhānghuà xiàn
彰化縣
Changhua Hsien
chiong-huà-koän
PHX
Pénghú xiàn
澎湖縣
Penghu Hsien
phê*-ôu-koän
YLX
Yúnlín xiàn
雲林縣
Yunlin Hsien
hûn-lîm-koän
NTX
Nántóu xiàn
南投縣
Nantou Hsien
lâm-tâu koän
HLX
Huālián xiàn
花蓮縣
Hualien Hsien
hoa-liân-koän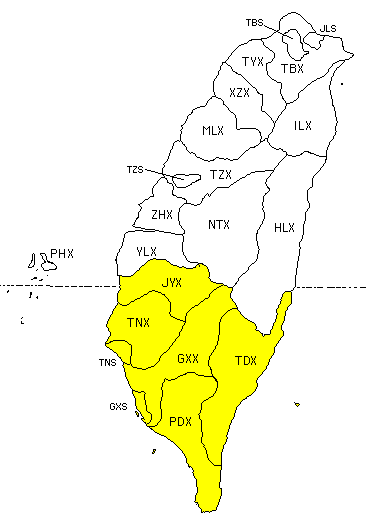 Southern Táiwān
JYX
Jiāyì xiàn
嘉義縣
Chiayi Hsien
ka-gï-koän
TNS
Táinán shì
臺南市
Tainan City
tâi-lâm-chhï
(TNX)
Táinán xiàn
臺南縣
Tainan Hsien
tâi-lâm-koän
(Incorporated into TNS in 2010)
GXS
Gāoxióng shì
高雄市
Kaohsiung City
ko-hiông-chhï
GXX
Gāoxióng xiàn
高雄縣
Kaohisung Hsien
ko-hiông-koän
PDX
Píngdōng xiàn
屏東縣
Pingtung Hsien
pîn-tong-koän
TDX
Táidōng xiàn
臺東縣
Taitung Hsien
tâi-tang-koän