Content created: 2015-09-11
File last modified:

The Spring & Autumn Annals
and the Zuǒ Zhuàn
Part I: The Year 594 BC in the Spring & Autumn Annals
Procursus. "The Springs & Autumns" (Chūn-Qiū 春秋) is more usually (and gracefully) called "The Spring & Autumn Annals" in English. It is believed to be Confucius' chronicle of the history of his home state of Lǔ 鲁 from 721 to 481 BC (with some additional notes to 469 BC and one note for 463).
The work consists simply of a very spare listing of events, in chronological order, with no attempt to provide explanations for them. Perhaps that is what Confucius was told to create. Or perhaps it reflected a belief on his part that a chronicle should contain "just the facts." Or perhaps he was bored or tired. As an archival account for purposes of reminding the rulers of Lǔ what happened and when, it was probably adequate. As explanatory or even interesting history, it is pretty terrible.
For example, here is the whole text of what happened in the 15th year of the reign of Duke Xuān 宣 (roughly 594 BC). Pay special attention to Line Four. Afterward we'll look at what Line Four is leaving out.
Return to top.
Go to English-only version.
Part II: Line 4 Expanded in the Zuǒ Zhuàn
Line 4: "People from the state of Qín 秦 invaded the state of Jìn 晋."
Procursus. However exciting it may have been to live in this dangerous year, with people invading and annihilating and executing each other and with peasants simultaneously facing new taxes and locusts and famine, we don't really get much sense of why these things were happening or what effects they were having.
What did Gōngsūn Guīfǔ say in line 1 that made Chǔ and Sòng make peace in line 2?
Why were they at war in the first place if peace could be made so easily?
What made people from Qí invade Jìn in line four?
How bad was the famine in line 10?
Did it have anything to do with the locusts in lines 6 and 9?
If farmers were suffering from locusts, why did the régime impose an additional tax burden on them in line 8?
What did Zhào and Máo do that made Zhá execute them in line 5, and whoever gave a king's son permission to do that anyway? What happened next? (And by the way, why is he called a "king's son" rather than a prince?")
Fortunately, we have the expansion of a certain Zuǒqiū Míng 左邱明 (5th century BC). Zuǒqiū is a rare two-syllable surname, but the Zuǒ 左 part itself is also a (different) surname, and his name is therefore sometimes misunderstood to be ZUǑ Qiūmíng instead of ZUǑQIŪ Míng. That ancient and common error is apparently reflected in the traditional name of his book: Zuǒ Zhuàn 左传 or "The Chronicles of Zuǒ" rather than the hypothetically correct Zuǒqiū Zhuàn.)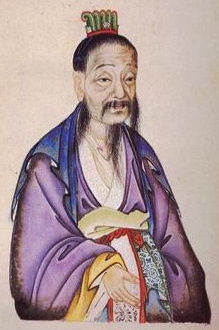 The Zuǒ Zhuàn is not an independent work; it is directly linked to the entries in the "Spring and Autumn Annals," which are normally printed with it. But it adds new information, including relevant background, that makes the Annals into a readable, even interesting, book.
(It may or may not be interesting to you. Remember that we are talking about texts written more than two thousand years ago. Neither Confucius nor Zuǒqiū Míng envisioned you as the audience, and besides that, tastes have changed! But it is important to appreciate the tremendous accomplishment of Zuǒqiū Míng in converting a mere listing of events into a dynamic history.)
As a tiny example, here is what we learn from the Zuǒ Zhuàn about Qí's invasion of Jìn in line 4 of Confucius' listing of events. Confucius, remember, said merely, "People from the state of Qín invaded the state of Jìn."
Return to top.
Go to English-only version.
Return to top.
Go to English-only version.
This still may strike us as spare, and obviously it assumes that the reader knows some proper names. But unlike Confucius' stark, four-character rendering —Qín rén fá Jìn, "People from the state of Qín invaded the state of Jìn"— Zuǒqiū Míng tells us a great deal more.
The curious Qín 秦 state troop movement through Jìn 晋 territory was not arbitrary; it was intended by the aggressive Qín as a means to grab land from the nearly powerless Dí 狄 tribe, a non-Hàn 汉 aboriginal group in northeastern China.
The Dí could not defend themselves, and the Qín installed a puppet ruler over them.
Returning (arrogantly?) through Jìn territory they were halted when their leader, Dù Huí 杜回, "the strongman of Qín," was captured.
Powerful, and possibly arrogant, as he was, he was brought to grief by a humble person.
Apparently, just as Achilles' fighters were out of action at Troy without his leadership, David's conquest of Goliath paralyzed the Philistines, and Nebuchadnezzar's army fled when Judith beheaded its leader Holofernes, so also the Qín army was made impotent by the capture of its imposing leader Dù Huí.
But Zuǒqiū Míng doesn't leave it there. He asks, "How was this possible?" And in explaining it he tells us:
A filial son's loyalty should not be owed blindly to his dying father's last command, but to his last rational command (a refinement on Confucian filial piety).
And Zuǒqiū Míng introduces the folk moral tenant that deeds produce retribution, and hence good deeds produce good retribution, i.e. rewards.
He even introduces a dream in which the reader is invited to suspect a supernatural element in Dù Huí's defeat, reflected, if not in the old man's actions, at least in his appearance in Wèi Kē's dream.
These points are important because they represent a Confucianism that is fully enmeshed in popular morality and popular belief. Confucius may or may not have been rigid and punctilius —it is easy to suspect that he was. But those attracted to his school should not be so characterized. Certainly Zuǒqiū Míng, nearly his contemporary, comes across as anything but rigid. (More on dates.)
The "Spring & Autumn Annals" are part of the Confucian canon because of their association with Confucius. But they are an influential part because of the "commentary" on them by Zuǒqiū Míng (and to a far lesser extent by the shorter 5th-century commentaries of Gōngyáng Gāu 公羊高 and Gǔliáng Chì 谷梁赤).
Return to top.
Go to English-only version.