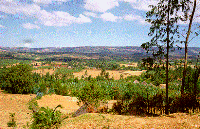 Teaching
Undergraduate classes

LIGN87 Freshman Seminar - Language Games and Secret Languages
LIGN87 Freshman Seminar - Endangered Languages
LIGN87 Freshman Seminar - Language in Hip-hop
LIGN90 Introduction to the Semitic Languages
INTL190 International Studies Senior Seminar: Language Policy and Language Planning in Africa
INTL101 Culture and Society in International Perspective
LIGN101 Introduction to the Study of Language
LIGN108 Languages of Africa
LIGN110 Phonetics
LIGN111 Phonology
LIGN119 First and Second Language Learning: from Childhood through Adolescence
LIGN120 Morphology
LIGN141 Structure of French
LIGN151 Language History
LIGN175 Sociolinguistics
LIGN177 Multilingualism



Graduate classes

LIGN211A Introductory Phonology
LIGN211B Non-linear Phonology
LIGN240 and LIGN241 Field Methods/Fieldwork
LIGN213/215 Issues/Topics in Phonology
Advising
Current advisees

Nese Demir. Nese is a first year student specializing in phonology/morphology of Turkish and other Turkic languages.
Hope Morgan (co-adviser: Rachel Mayberry). Hope is finishing her dissertation on the phonology of Kenyan Sign Language
Adam McCollum. Adam is interested in vowel harmony and specializes in Turkic and Pamiri languages.
Michael Obiri-Yeboah. Michael is working on the phonology of Gua, a language of Ghana.



Current dissertation committees

Andres Aguilar. (chairs: Gabriela Caballero & Marc Garellek). Laryngeal articulations and grammatical structure.
Kati Hout. (chair: Eric Bakovic). The gradient nature of exceptionality.
Amanda Ritchart. (chair: Marc Garellek). The influence of voice quality on the perception of nasalization
Nicholas Root (UCSD Psychology; chair: V.S. Ramachandran). Language influence on the phenomenology of grapheme-color synesthesia.



Previous PhD students

Bethany Keffala (co-adviser: Jessica Barlow, SDSU). 2015. Learning to Share: Interaction in Spanish-English bilinguals' acquisition of syllable structure and positional phonotactics
Rebecca Colavin. 2013. (co-chair w/Roger Levy). Phonotactic probability in Amharic: a psycholinguistic and computational investigation.
Nicoleta Bateman . 2007. Full and Secondary Palatalization: A Typological Study.
Linda Godson . 2003. (co-chair w/Maria Polinsky). Phonetics of Language Attrition: Vowel production and articulatory setting in the speech of Western Armenian heritage speakers.
Alicia Munoz Sanchez . 2003. The Effect of Phonological Status on the Acquisition of New Contrasts: Evidence from Spanish and Japanese L2 Learners of English.



Previous dissertation committees

Kevin McMullin. 2016. (UBC; chair: Gunnar Hansson). Tier-Based Locality in Long Distance Phonotactics: Learnability and Typology.
Ryan Lepic. 2015. (chairs: Farrell Ackerman & Carol Padden) Motivation in Morphology: Lexical Patterns in ASL and English
Lucien Carroll. 2015. (chairs: Eric Bakovic & Gabriela Caballero) Ixpantepec Mixtec Word Prosody.
Jonathan Udoff. 2014. (SDSU/UCSD Joint Doctoral Program in Language and Communicative Disorders; Chairs: Karen Emmory and Ignatius Nip) Mouthings in American Sign Language: Biomechanical and Neurological Foundations.
Will Bennett . 2013. (Rutgers University, chair: Alan Prince) Dissimilation, Consonant Harmony, and Surface Correspondence.
Bozena Pajak . 2012. (chairs: Eric Bakovic & Roger Levy) Inductive inference in non-native speech processing and learning.
Cynthia Kilpatrick. 2009. (chair: Eric Bakovic). The Acquisition of Ungrammaticality: Learning a Subset in L2 Phonotactics.
Michael Hughes. 2003. (chair: David Perlmutter) Morphological faithfulness to Syntactic Representations.
Martha Senturia. 1998. (chair: Kathleen Hubbard). A Prosodic Theory of Hiatus Resolution.



Previous honors theses

Richard Kroeger. 2016. Folk Definitions of Korean Ideophones. (co-advised with Gabriela Caballero)
Chris Eager. 2011. The Place of Variation and Gradience in Phonology: The Case of Unstressed Vowel Devoicing in Andean Spanish.
Andrew Strabone. 2010. Morpho-phonological properties of causatives in Moro. shorter version appeared in Selected Proceedings of the 41st Annual Conference on African Linguistics.
Michelle Haft. 2005. Vowel Lengthening in Friulian and the Effect of Following Consonant Voicing. (co-advised with Amalia Arvaniti).