How do La Jolla's children want to use Children's Pool?
OCTOBER 2004 -- NOTE:
This website was the original La Jolla Friends of the Seals site, created in 1999. However, the official LJFOS website is now at http://www.lajollaseals.com/. It is in process of being updated; for ongoing information about September 2004 and ongoing developments, see Save the San Diego Seals. The page you're at now was re-posted in September 2004 for historical purposes, when the San Diego City Council re-opened the proposal to dredge Children's Pool (which was defeated in 1999).
Prior to the March 1999 City Council vote on the proposed dredging, a 4th-grade student at Torrey Pines Elementary decided that if the issue was over use of the Children's Pool, the children of La Jolla at least should be consulted in the process. She gave 5-minute presentations to the classrooms at Torrey Pines and to school assemblies at Bird Rock Elementary and La Jolla Elementary, and then distributed ballots like the one below to the students.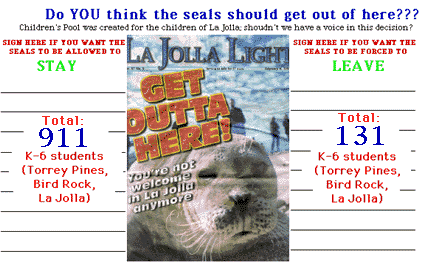 The response was overwhelmingly in favor of letting the seals remain at the Children's Pool Beach.
It should be noted that at that time, the issue seemed to be cast as "seals stay or go"; the children voted essentially on whether, given only that choice, they would rather use Children's Pool Beach for swimming or for seal-watching. When you add the results of this vote to the thousands of signatures on pro-seal petitions collected elsewhere, the conclusion is clear: for the majority of La Jolla's children, letting the seals stay is the first priority if a choice must be made.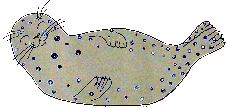 Logo by LJFS Docent Liesl Schindler (age 15)

Back to LJFS Home