<![if !vml]>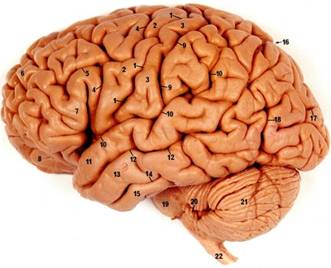 <![endif]>
COGNITIVE SCIENCE 107C
Cognitive Neuroscience


Spring Quarter 2007
Tuesday and Thursday 3:30 - 4:50pm
Room 109 Solis Hall


INSTRUCTOR:
Andrea A. Chiba
OH: Thursday 12:00 - 1:00
THIS WEEK, June 7th, OFFICE HOURS Changed to 2-3pm
Finals Week Office Hours: Wed, June 13th from 2-3 pm
CSB 163

chiba@cogsci.ucsd.edu


TEACHING ASSISTANTS:
| | | | | |
| --- | --- | --- | --- | --- |
| Emma Dannin | Matthew Leonard | Hayden Rausch | Alicia Coggins | Sandra Volz |
| OH:TBA | OH:TBA | OH: TBA | OH: TBA | OH: TBA |
| | | | | |
CLICK HERE FOR SYLLABUS AND READINGS



MESSAGE BOARD: This Week: LAST QUIZ !!!
HOME STRETCH:FINAL EXAM, June 14, 3-6pm
REFERENCE LINKS:
Hitchhiker'sGuide to Some Neuroanatomical Terminology
WashingtonHuman Brain Atlas (Digital Anatomist).
Listof Human Brain Tutorials and Atlases
COURSE GOALS: 

The goal of this course is to delve into the functional 

neuroanatomy

 of the brain or how it is that the brain and body allow us to learn about the outside world and to process that information for future 

use.By

 the end of the course, students should be able to

:1

. Understand some of the issues regarding the relationship between brain and behavior.2. Recognize the major anatomical, cognitive, behavioral, and physiological alterations that occur as a result of damage to particular anatomical regions/systems or common brain disorders.3. Have some understanding of how methods are constructed to tap different aspects of cognition.4. Know how 

neuroimaging

 techniques (e.g., MRI, 

fMRI

, PET) and 

neurophysiological

 recording techniques (single unit and ERP) are utilized to gain insight regarding functional 

neuroanatomy

 of the brain
.METHODS OF EVALUATION: Students are expected to attend lectures regularly, complete all assigned readings, participate in class discussions, attend sections, complete quizzes in section, complete the midterm exam, and complete the final exam. The breakdown of grades is as follows:
Final Exam 45%
Midterm Exam 40%
Cumulative quiz score 15%
Extra Credit: You may earn 3 points (total ) extra credit for one hour of being an experimental subject.
The lowest grade of the four quizzes will be dropped. No make-up exams or quizzes will be permitted. If you miss a quiz, that will be counted as your lowest grade.
How to contest a grade

: If you have a complaint regarding a grade on one of the exams you are welcome to contest it in written form. In order to contest a grade, you must write a complete justification regarding your complaint or 

requestfor

 re-grading. This must then be stapled to your exam or quiz and be returned to your TA or instructor within 7 days of the return of your test (by your instructor or TA). This will allow your TA or instructor to have adequate information in reviewing your request prior to speaking to you. No grade changes will be made unless this procedure was followed.
 REQUIRED TEXT and Additional 

Readings

:

Fundamental
Neuroscience (Second Edition)  will be used. Periodically throught the quarter,additional readings will be given as a hand-out in section or posted on the website. There is no reader for this course.
SECTION:Sections will be held in CSB 101. You must attend the same section every week (unless special clearance has been given in advance).