Content created: 2007-02-28
File last modified:

Selected Web Links
Relating to Christianity
There are millions of Christianity-related sites on the World Wide Web. Thomas C. Fox's 1997 book Catholicism on the Web was nearly 500 pages long all by itself, and that was in 1997. If the number of sites would make the book keep up, doubling every two years, that would bring such a book to a million pages today.
The present list includes only a few sites that I have visited and that strike me as either useful or interesting or both. Since this page is intended to supplement a UCSD course on the ethnography of Christianity, taught in San Diego, nearly all of the sites are American. A special section is devoted to visitable churches here in town.
Many of these links have rotted out over time and need to be replaced as discovered. Sorry about that.
Shortcuts:
History, Texts, Catholicism, Protestantism,
Forming New Denominations, San Diego Congregations, Miscellaneous
---

I. Historical Materials
---

II. Bible & Other Texts
---

III. Catholicism & Orthodoxy
---

IV. Some Protestant Organizations Represented in North America
"High Church" Denominations

Episcopalians (Anglicans):

Episcopal Church (Unofficial)

Church of England Home Page

Franciscan Order of Céli Dé (Anglican Franciscans)

Episcopal Lectionary

Lutherans:

Evengelical Lutheran Church in America

Lutheran Church, Missouri Synod

Presbyterians:

Presbyterian Church in America

Example: Peachtree Presbyterian Church (Atlanta GA)
http://www.peachtreepres.org (Internet broadcast of regular services.)

Presbyterian Church (U.S.A.)

Congregationalists & Similarly Organized Groups

Congregationalists:

Baptists:

Methodists:

United:

Others

Church of Jesus Christ of Latter Day Saints (Mormons) Official Web Site

Reorganized Church of Jesus Christ of Latter Day Saints Official Web Site

Christian Science Church

Jehovah's Witnesses site: Watchtower Bible & Trace Society

Religious Society of Friends (Quakers)

Seventh Day Adventists

United Pentecostal Church International

Example: Dual Highway Church of God
http://members.aol.com/jhamby1878 (Hagerstown MD) (audio of pentacostalist Rev. Jim L. Hamby's sermons)

Unitarian-Universalist Association

Example: Univarian Universalist Church of Atlanta http://www.uuca.org

Worldwide Church of God (publishers of Plain Truth)
---

V. The Protestant Process: New Denominations
The essential logic of Protestantism is to found new churches when there are differences of opinion on points of faith or practice. As a result there are countless completely independent churches and very small congregations, typically congregational in character or founded by a single pastor and controlled largely by him or her.
In some cases these may be groups of immigrants who conduct religious services in the language of their home country but without affiliation with a larger denomination.
In other, somewhat more interesting, cases these churches define themselves by some social or doctrinal issue that is central to their mission and seems important at the historical moment of their founding. It is sometimes difficult to appreciate how differences that seem trivial today could have been important enough in the past to split churches over. (That is why fusion of separate churches occurs as well as fission of existing ones.)
To suggest the nature of the process, this section is devoted to new denominations derived from one concern of our own era: issues of gender and sexual-orientation.
Various gender and sexual-orientation issues have proven particularly troublesome for mainstream denominations in recent years. For example, Roman Catholicism requires celibate male clergy, but movements have arisen urging that this be changed. Some denominations prohibit female clergy, and again the prohibition is under almost continuous attack and occasional defiance. Most mainstream denominations condemn homosexuality with greater or lesser severity, although sometimes with an outreach. (An example of Catholic outreach is the St. Victor Church http://www.saintvictor.org in Los Angeles. )
Not surprisingly, one finds newly instituted independent churches or small denominations that are founded specifically as a result of such issues.
Here are some examples that emerged from Alta Vista in response to the search string "+Christian +church +gay":
---

VI. San Diego Churches' Web Sites
Here are links to a few San Diego Churches' Web Sites. This is not a comprehensive list, of course, but merely a way to explore some specific congregations of wider Christian denominations and movements.
---

VII. Miscellaneous Links
---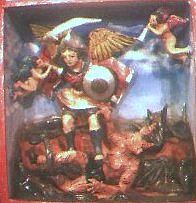 Contemporary Peruvian Miniature Potato-Starch Sculpture of
Archangel Michael Subduing Lucifer