Simple Map of China
Discontinued Names, Taiwan Detail
It is a pet peeve of mine that most textbooks use geographical terms that are not found on the maps they provide. This site contains very simple outline maps of China and Taiwan with the official names of Chinese provinces and of Taiwan counties.
If you would like to print out a reference copy of either map, click on it to get a page with the map alone.
The map on this page covers most of China, and virtually all of the province likely to appear in my courses. The abbreviations used are official and represent province, "autonomous region," and municipality names. (The former three-letter abbreviations HEB and HEN have now been officially changed to HE and HA respectively.) In a very small number of cases, the official spellings are not simply toneless Pinyin, so real Pinyin is given separately with the Chinese characters. "Obsolete Postal" spellings are those used for roughly a century before Pinyin was fully universalized. They continue to be used in Taiwan and by a few elderly authors elsewhere. A separate table at the end lists names of provinces that have been absorbed into other units.
It may seem an inconvenience to have the map itself labeled with the abbreviations rather than the full names, but it allows the map to do double-service as a learning device. After you have become initially familiar with these names, you can use the map to test yourself on their locations, which turns out to be a very effective way to connect the arbitrary names with specific areas.
Click on the map to toggle major rivers on and off. Click here for a larger copy of the map.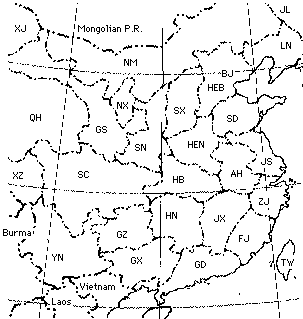 Abbr.
Official
Spelling
Chinese
Obsolete Postal Spelling
Northwestern China
GS
Gansu
Gānsù 甘肃
Kansu
NX
Ningxia
Níngxià
宁夏
Ninghsia
QH
Qinghai
Qīnghǎi
青海
Kokonor
SN
Shaanxi
Shǎnxī 陕西
Shensi
XJ
Xinjiang
Xīnjiāng
新疆
Sinkiang
Northeastern China
HL
Heilongjiang*
Hēilóngjiāng
黑龙江
Heilungkiang
JL
Jilin
Jílín 吉林
Chilin, Kirin
LN
Liaoning
Liáoníng
辽宁
Liaoning
*-HL is off of this map to the northeast.

Abbr.
Official
Spelling
Chinese
Obsolete Postal Spelling
Northern China
BJ
Beijing
Běijīng
北京
Peking, Pekin, Peiping
HB (HEB)
Hebei
Héběi
河北
Hopei, Hopeh
HA (HEN)
Henan
Hénán
河南
Honan
NM
Nei Mengol
Nèi Měnggǔ
内蒙古
Inner Mongolia
SD
Shandong
Shāndōng
山东
Shantung
SX
Shanxi
Shānxī
山西
Shansi
Central China
AH
Anhui
Ānhuī 安徽
Anhui
HB
Hubei
Húběi 湖北
Hupei, Hupeh
HN
Hunan
Húnán
湖南
Hunan
JX
Jiangxi
Jiāngxī
江西
Kiangsi
Abbr.
Official
Spelling
Chinese
Obsolete Postal Spelling
Southern China
FJ
Fujian
Fújiàn 福建
Fukien
GD
Guangdong
Guǎngdōng
广东
Kuangtung
HI
Hainan
Hǎinán
海南
Hainan
TW
Taiwan
Táiwān
台湾
Taiwan
Eastern China
JS
Jiangsu
Jiāngsū
江苏
Kiangsu
ZJ
Zhejiang
Zhèjiāng
浙江
Chekiang
Southwestern China
GX
Guangxi
Guǎngxī
广西
Kwangsi
GZ
Guizhou
Guìzhōu
贵州
Kweichow
SC
Sichuan
Sìchuān
四川
Szechwan
XZ
Xizang
Xīzàng
西藏
Tibet
YN
Yunnan
Yúnnán
产南
Yunnan
The following special municipalities were too small to fit on this map:
AM Àomén 澳门, formerly Macao, located in the middle of the south coast of GD
CQ Chōngqìng 重庆, formerly part of SC.
GX (?) Gāoxióng 高雄 (formerly spelled Kaohsiung), located in southern TW.*
SH Shànghǎi 上海, located on the JS-ZJ boundary at the outlet of the Yangzi river
TB Táiběi 台北 (formerly spelled Taipei or Taipeh), located in northern TW*
TJ Tiānjīn 天津 (once spelled Tientsin), located east of BJ
XG Xiānggǎng 香港, usually spelled Hong Kong, located in the middle of the south coast of GD

*The status of Táiběi and Gāoxióng as special municipalities was granted by the ROC government in Taiwan and is not recognized, to my knowledge, by the PRC.
---
Discontinued Province Names
The following province names are no longer in use. The territories that they covered have now been assimilated into other units. Most of these changes occurred after 1949, however, and are not recognized by the government in Taiwan, where most maps and other sources continue to use the earlier boundaries and names. This table may be of help if you read a source that refers to a province that cannot be found in the list above.
During the Communist period (period 23), JL was enlarged to include parts of adjacent provinces; LN was enlarged to include parts of adjacent provinces; HAI was created in 1987 from part of GD.
Chinese
Obsolete Postal Spelling
Location
Āndōng
安東
Antung
Split between LN and JL
Cháhā'ěr
察哈爾
Chahar
Assimilated into NM
Héjiāng
合江
Hokiang
Assimilated into HL
Liáoběi
遼北
Liaopei, Liaopeh
Split between NM and JL
Měnggǔ
蒙古
Mongolia
"Outer Mongolia" (Wài Měnggǔ 外蒙古蒙) refers to the region that gained independence in 1921 as the Mongolian People's Republic. "Inner Mongolia" (Nèi Měnggǔ 內蒙古) is NM. Chinese governments until 1949 claimed that all of Mongolia was part of China. (This is still the official position of the ROC, period 22.)
Nènjiāng
嫩江
Nunkiang
Assimilated into HL
Rèhé
熱河
Jehol
Partly assimilated into NM
Sōngjiāng
松江
Sungkiang
Split between JL and HL
Suīyuǎn
綏遠
Suiyuan
Assimilated into NM
Xīng'ān
興安
Shing'an
Assimilated into NM
Xīkāng
西康
Hsikang
Split between XZ and SC
Zhílì
直隸
Chihli
"To be under immediate jurisdiction," the Qīng 清 (period 21) name of HE.