Connected Learning Research Network
dmlcentral | connected learning
Currently I'm working under
Mimi Ito
and the
Connected Learning Research Network
, a MacArthur Foundation research network studying how learning is organized between settings of school, after-school, home and peer cultures. For my dissertation, I produced an ethnography centered on the lives of a diverse group of 11 and 12 year olds who attended a new public middle school in New York City that attempts to overcome conventional dichotomies between education/entertainment and production/consumption. Thematically, I'm especially interested in how practices involving media technologies figure in the processes that make and remake privilege today. Starting in the summer of 2009, I conducted extensive participant observation at school, homes, commutes, after-school settings, and online, as well as interviews with students, parents, and educators. Previously I was the co-author of the report
Digital Media and Technology in Afterschool Programs, Libraries, and Museums
published by The MIT Press.
Digital Youth
dmlcentral | digital youth project
From 2005 - 2008 I worked under
Peter Lyman
and
Mimi Ito
on an ethnographic study of how kids' everyday uses of digital technology produce knowledge and culture outside of school. I was a co-author of the book based on the project,
Hanging Out, Messing Around, and Geeking Out: Kids Living and Learning with New Media.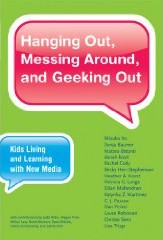 In the summer of 2007, I ran the Coming of Age in a Digital New York project: a study of how New York City youth use information and communication technologies in their daily lives. I primarily focused on the neighborhood of Red Hook, Brooklyn. Previously, I studied the mediated practices of rural youth. In the summer and fall of 2006 I conducted home-visits with families in a rural region of the Sierra-Nevada foothills. A more detailed description of this former project can be found on the Digital Youth website. In the fall of 2005 Judd Antin and I conducted 12 weeks of participant observation at a community-based arts and technology program for teenagers from the Bayview and Hunters Point neighborhoods in San Francisco. The study's website can be found here. The project was funded by the MacArthur Foundation and ran for three years.

Yahoo! Research Berkeley
In the fall of 2005 and winter of 2005-06 I worked as a research intern for Yahoo! Research Berkeley. The lab was founded in the summer of 2005 under the leadership of Marc Davis. The lab continued the work of Garage Cinema Research, where I worked in the spring and summer of 2005. The group's focus was to leverage social, spatial and temporal metadata to aid in the collection, use and reuse of digital media. My responsibilities included: user need assessments, information architecture development, user interface prototyping, and information visualizations.